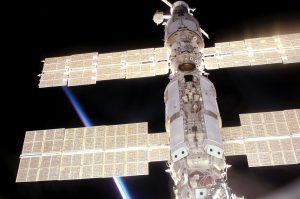 (This is not my main reason for writing this, but first of all, if you're interested in looking at the possibility of adding leased solar panels to your home and wish to check out Sungevity, the company we went with, please use this referral link, as it gets both of us some money: http://www.sungevity.com/get-your-iquote?referral-code=387839 – There are also other great companies, so definitely look around!)
My reason for writing this is to encourage people to look into getting solar-panel installations to reduce our reliance on fossil fuels and increase our use of renewable energy, which is just waiting to be taken!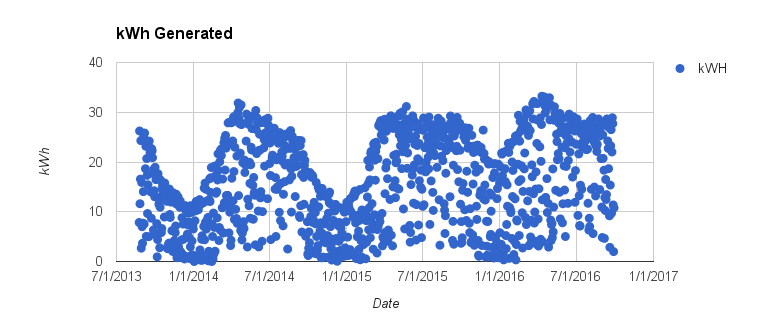 The numbers:
Our no-money-down lease costs $2.40 per day
NStar average price over this time: $0.2063 per kWh 
Our average generation: 15.88 kWh / day
Solar value / day: $3.29
Current net: +$0.89 / day
Total Generation: 17884.705 kWh (very close to 75% of our total energy use) = $3690.11 worth of energy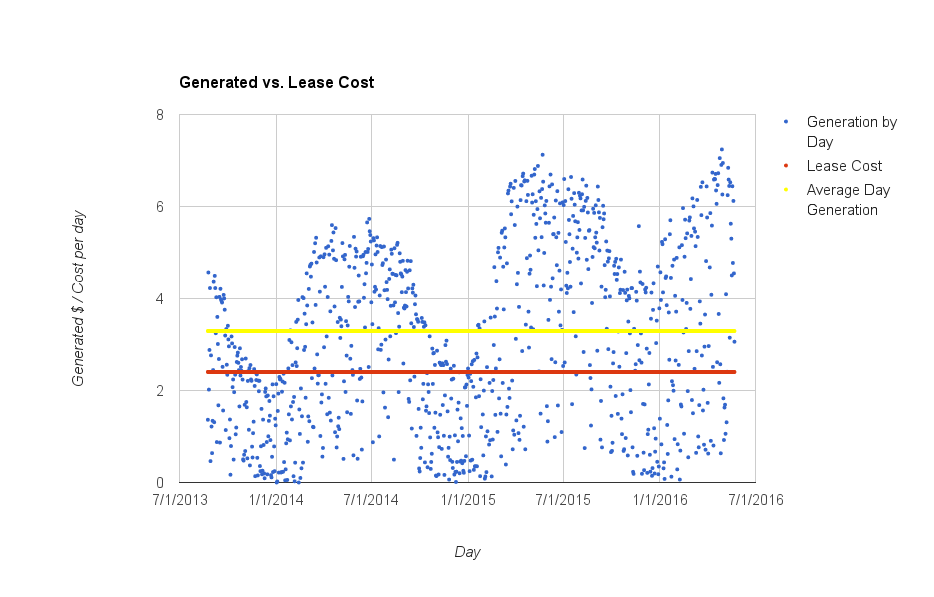 Analysis: Our plan with leasing was that we would likely lose small amounts of money on the lease for up to 5 years. The lease stays fixed, but energy costs are guaranteed (I would argue anyway) to go up. Inflation alone is guaranteed to raise costs. Our generation efficiency is also expected to decline a little, but not as much as costs are projected to go up. This is really surprising that we've done this well already.
Example of a normal "pretty good" month (March 2014)
[Our record month was May 2015 at 727.49kWh]


| | |
| --- | --- |
| System Size (STC-DC) | 4.9 kW |
| System Size (CEC-AC) | 4.168 kW |
| Number of Solar Panels | 20 modules |
| Panel Dimensions | 39.1″ x 65.0″ |
| Estimated First Year Production | 4,724 kWh |
| | |
| --- | --- |
| Roof Pitch | 42° |
| Roof Azimuth | 149° |
| Annual Shading | 74% |
Sungevity also currently has a generous referral program. If we get people to sign up, we get money. So far, we've already earned $3500 ($3000 cash + $500 Lowes gift card) via this program. By those numbers, if we continue to generate exactly as above, we've already ended up in the positive on the lease (and as I said, I expect we will do much better as years go on – this is actually much better than I would have originally projected). I'm not going door-to-door asking people to sign up or anything, but it's frankly a good, very-low-risk deal I think – why we signed up! So, I certainly would encourage people to check it out. Our link: http://www.sungevity.com/get-your-iquote?referral-code=387839
WHY SOLAR?
In 6th grade, we had a class project that required us to make solar collectors that could store as much heat as possible. We would measure the temperature inside our collectors before and after they spent an hour outside in the sun. We all devised various crazy schemes ranging from painting the cases black to building giant tinfoil reflector dishes to filling our collectors with water or other high-specific-heat materials. It got me really interested in the whole science of using the energy that already surrounds us instead of burning fossil fuels. I waited patiently for 20+ years before home solar collection started to really become financially viable. With state rebates and federal rebates, I got excited to make it happen at our house and we started saving money. Just when we had about enough money to get panels installed, we hit an artistic crossroads. We decided we wanted to make our first feature film, TEN, and we needed to use the money we had saved to make it possible. So, we gave up our solar dream (TEMPORARILY!) and spent all our money making a movie.
A few months pass and I hear about a wave of opportunities to lease solar panels instead of buying them. It turns out that it does reduce your savings/earnings from solar significantly, but it allows the installtion of solar panels with no money down and a fixed-cost monthly lease. We talked to Sungevity, and I worked through the numbers and they looked pretty good for us. We probably wouldn't make a financial killing on the whole thing, but we looked to make a little bit of money over the course of the 20-year lease and their minimum-production guarantees were good enough that even if we somehow never produced any energy, we wouldn't lose very much money.
Here's the timeline of the whole installation, which was a relatively painless process:
I put in for a quote on May 9th. I had a phone consultation on May 15th. After speaking with some people and exploring some other numbers, I signed on May 17th. On May 29th, Boston Solar (contracted by Sungevity) made a first home visit to take photos of our roof, the interior, the electric system, etc. On June 17th, the design plan was complete and ready to submit for permitting. July 9th, I was notified that the City of Somerville provided a permit for the installation. July 15th, the workers came and spent all day installing all the panels (I think it was about 95 degrees that day – ouch!). July 30th, the first inspector came (I think maybe a building inspector?) and then the installers returned to finish something related to electric sometime in there (I can't recall the date). August 5th, the electrical inspector came. I was notified that the installation passed inspection on August 7th. The utility came and upgraded their meters to fit with the system sometime in the next few weeks. They didn't tell us, they just did it. On August 24th, I was given permission to flip the system on, which I did myself. It was kind of fun to get to actually turn the thing on, even if it was just moving two clearly labeled switches from off to on.
I was pretty happy with the ease of the experience. I know there are now multiple companies doing this same thing and I certainly can't give you comparison info, but I encourage everyone to look into solar leasing. It would be great to get our energy generation up and with no-money-down options, it's definitely worth exploring, even if you don't have any money to invest into such a project!
Below is the report from our first week (a little more than a week for the non-graph reports). It's quite interesting to see how big the difference is between a sunny day and a bleak, cloud-covered rainy day.
My hopes with this, regardless of how much it benefits us financially, is that we can work toward generating as much electricity as we use. This also means thinking of ways to cut usage!
We've already switched all of our household lights to ThetaLux LED lights and I hope we take opportunities to further reduce our consumption. Now, if only we could find a way to make our own natural gas (not like that)!