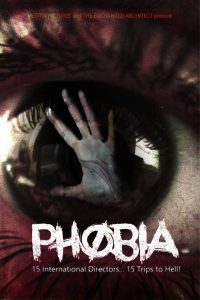 We have been asked to create a segment for the anthology, Phobia, for 2018 release! Our topic is Trypophobia, a recently coined term to refer to a fear of patterns or clusters of small holes or bumps.
About Trypophobia
Wikipedia
Phobia about holes is not officially recognized, but U.K. scientists look into it (Washington Post)
Trypophobia is a fear of holes (Smithsonian)
Is Trypophobia a real phobia? (Popular Science)
Fear Of Cantaloupes And Crumpets? A 'Phobia' Rises From The Web (NPR)
Science explains why this image disgusts some people (Business Insider)
The Inside Story On The Fear Of Holes (NPR)
Understanding trypophobia: Why some people fear holes
Phobia press
Dark Veins
15 International Directors Develop an Unusual 'Phobia'
boca do Inferno
Eclipse Magazine
Coffee and Cigarettes
Weird Movies
Il Cineocchio
InGenere
Cosi Perversa
Klub99 Cinema
L'Excran Fantastique
Horror Society
FantastiCinema
The oldest and strongest emotion of mankind is fear: 16 international directors, 15 trips to hell.
Vestra Pictures by Tony Newton (producer of films like: Grindsploitation, Virus of the dead) and The Enchanted Architect by Domiziano Cristopharo (producer of: Red Krokodil, Sacrifice) present PHOBIA the new collective movie that features 16 international directors developing an unusual theme: phobias.
Additional featured directors: James Quinn (The Law of Sodom), Sam Mason Bell (The making of), Jason Impey (Home Made), Alessandro Redaelli (POE 3), Chris Milewski (Welcome to the world, dear child), Alessandro Giordani (L'insonne), Sunny King (Pray), Jason Figgis (The Ecstasy of Isabel Mann) plus Tony Newton (60 Seconds to Die) and Domiziano Cristopharo (House of Flesh Mannequins).