GLOSSARY OF BROKEN DREAMS
A film paved with good intentions

Directed by Johannes Grenzfurthner
Plot Outline:
Puppets! Pixels! Anime! Live action! Stock footage! Lumpennerd Johannes Grenzfurthner gives an ideotaining cinematic revue about important political concepts. 
Everyone is talking about freedom! Privacy! Identity! Resistance! The Market! The Left! But, yikes, Johannes can't tolerate ignorant and topically abusive comments on the "Internet" anymore! Supported by writer Ishan Raval, in this film, Johannes explains, re-evaluates, and sometimes sacrifices political golden calves of discourse.
We were invited to Austria by Johannes Grenzfurthner whom we met while both of our previous films were on the film fest circuit. We have similar work-ethic sensibilities (which is to get out there and MAKE THE STUFF) and became fast friends. As soon as we landed, he wasted no time putting us to work, shooting some scenes for his upcoming film, Glossary of Broken Dreams (IMDb, Facebook).
We had already done some audio recording in LA for the film with Amber Benson (Buffy the Vampire Slayer) before going to Austria.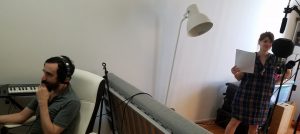 We helped work on several more scenes in Austria, shooting with a variety of great people and props including capitalist puppets (literal puppets), Max Grodénchik (Star Trek: Deep Space 9), and most importantly, Johannes' mother! All of the shoots were a blast and we couldn't be more excited to see the finished film!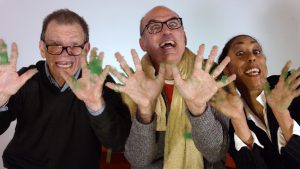 behind-the-scenes photos from Glossary of Broken Dreams