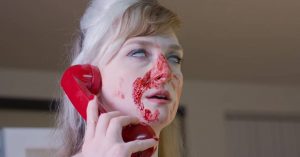 Excited to share a little film I made for the Tales From The Grave series (produced by Dustin Ferguson)!
I had the absolute pleasure of working with Sophia Cacciola, Anastasia Elfman, and Tyler Sage to shoot this. The ever-amazing Catherine Capozzi did the score! I also needed a lot of additional voices and quick shots of people on phones, and got some wonderful remote contributions from: Deborah Haber, Lianne Flashdance O'Shea, Rachel Leah Blumenthal, Sethus McGurdy, Sam Vanivray, Dan Wilder, Ron Trembath, Tim Troemner, Jeff Frumess, and JB Sapienza.
I hope you enjoy, "The Dial Tone of Doom" !!!! Coming soon to festivals and wide release!