We stayed at my girlfriend's cousin's place in Houston; Phuong and she was amazingly gracious and nice. I have to admit; we've been very fortunate to run into and meet great people on the road and I personally have to thank each and every one of them for their graciousness and hospitality; even when it is totally not necessary. The drive to Dallas wasn't too bad; on our drive down we saw a crazy-big lifted pickup truck, bigger than anything I had seen before in Maine. They take their trucks seriously in Texas. When we got to the Door in Dallas, I don't think I have ever seen so many bands in my life. The promoter of the show basically put the show on as a means for bands to do something as they were traveling down to Austin for SXSW. Because of that; they had 3 stages (one in a completely different room, and two in a much larger room). This was probably the best-organized show I've ever played… they alternated stages and there was literally NO downtime between bands. The minute one band finished their set; there was applause and the other band started. Very slick. The only downside, of course, was that is was ALL bands from out of town and almost none of them had any draw, so all the bands played to each other. Which was fine, but I certainly learned quite a bit as to what other bands out there are doing… and I'm not sure I like it.
We were slated to stay at my friend Ana's sister's (Erica and her husband Jason) place and I had thought they were coming to the show (so at least we had 2 people there!) but they arrived late; late enough that I was able catch them at the door and tell them not to come in and pay the cover. Due to us being totally exhausted; we left early and headed over the Erica and Jason's place. They took us to a nice diner and I had a totally delicious Chicken Quesadilla and some nice coffee. They happen to have several different varieties of coffee so I was able to sample several types over the course of our meal. During one of my trips back to the coffee; I happened to be stopped by a woman who was sitting at one of the adjacent tables and asked if we had met. After assuring to her that we hadn't (and her telling me that I better not be lying) I decided to play a little prank… I happen to share a rather striking resemblance to the actor Anthony Rapp and in particular; the look he had in the musical/movie RENT. I'll post some pictures to show: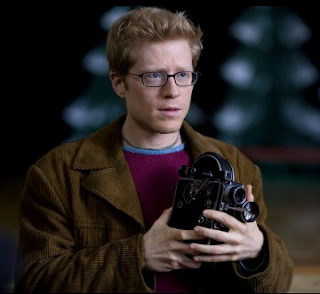 See, there is certainly some resemblance…. If I was holding a Bolex on a bad day, it might be difficult to tell us apart, at least when Mr. Rapp has that haircut. So, I told this nice young lady that I had been in some movies; particularly RENT. She gasped and shouted "OH MY GOD!!!!"… and I was about to prolong the gag; but I was tired and wasn't sure I'd be witty enough to sustain a long conversation… so I gave in and that was that.