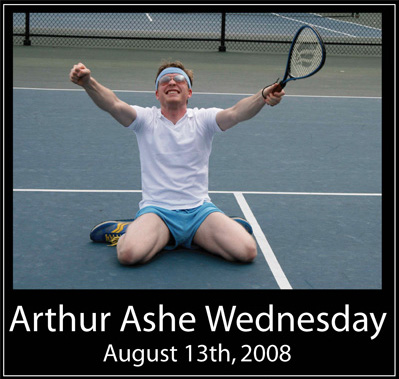 Today is Arthur Ashe Wednesday, which means that The Motion Sick will be rocking out at Church (rock club) in Boston (did we mention FREE!!!) and serving non-stop aces at you!
The theme song for the night, "Tennis Pro" is available now for listen and download at: http://themotionsick.com/ash/
In case you foolishly missed last week's Splash Wednesday show (or even if you were there), check out some fabulous photographs at https://www.thesleepwalker.com/ash/splash.html to see how much fun we had.
We ran some features this week on the acts playing with us on our blog: https://blog.mikeandsophia.com/search/label/tmsupdate
08/13/08 
The Dig's Summer Music Blender presents
Ash Wednesdays Residency @ Church
Arthur Ashe Wednesday – Tennis Theme 
69 Kilmarnock Street
Boston, MA 02215 
9 – Joe Kowan
9:45 – Do Not Forsake Me Oh My Darling
10:15 – Leesa
11 – The Motion Sick 
FREE!
21+
Rock on!