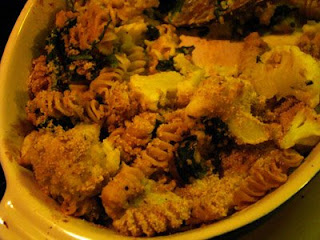 I've been experimenting with nutritional yeast "cheese" sauces a bit recently. This cauliflower & pasta dish was the latest.  
For the sauce:
1 cup nutritional yeast
splash of soymilk
1/4 cup water
1 tbsp earth balance
1 tsp onion powder
1 tsp garlic powder
pinch of black pepper
1 tsp mustard
Boil water and put a handful of whole wheat pasta in, wait four minutes and throw in the cauliflower, wait 3 minutes and throw in some spinach. Wait one minute, drain. 
Add all of the sauce ingredients to a saucepan and heat on medium stirring until it bubbles and thickens.
Place half of the cauliflower ingredients in the baking dish, and cover with sauce, mix, then add rest of cauliflower/pasta, followed by the rest of the sauce and mix.  Top with a hearty amount of breadcrumbs.  Bake 10 minutes at 375 F and then take out and stir in the breadcrumbs with the rest of the dish. Bake 10 more minutes.