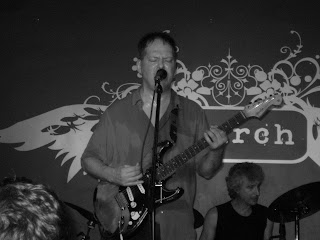 For the finale of my 3-day tribute to Television, I was able to see Richard Lloyd at CHURCH where he is currently on the road supporting his current record
The Radiant Monkey
under the moniker of: RICHARD LLOYD & THE SUFI-MONKEY. Armed with his vintage 60's Strat, the band is made up of Richard, Billy Ficca (also from Television) and bassist Keith Harshtel. The set was a mixture of songs from Richard's previous output, the current record, selections from his upcoming Jimi Hendrix cover record and surprisingly, two television tunes (Friction and Elevation).
Richard is well known to be an interesting person, here are some quotes from an recent interview with T. Ballard Lesemann from the Charlston City Paper, giving some thoughts on Television's place in music history:
"Television wore torn T-shirts and stuff," says Lloyd of the band's early days in Manhattan's Bowery neighborhood. "To me, we were like runaways who joined the circus. Finding a place like CBGB's and building it up was like hosting a four-year New Year's Eve party. We were more or less the house band.

We wanted to be like the Beatles playing in Hamburg."

—

"Television was completely different," remembers Lloyd. "The guitars were like a jigsaw puzzle."

—

"Punk rock nowadays is a Ponzi scheme," scoffs Lloyd. "Half the country under the age of 24 are in bands — and they all think they've got a chance. They all have MySpace, my-face, my-ass websites. You really gotta love poverty to be a musician, because your chances of making it are slim. The chances of making it into the pantheon of historical developments in music … you have a better chance of hitting the state lotto."
—
I'm looking forward to Richard's upcoming release of Hendrix covers since his approach is very organic and refreshingly, he's not trying to sound exactly like Hendrix (which I feel most musicians who cover Hendrix do). Instead, it appeared (through the performances) the he's trying to capture the spirit of Hendrix, which, made me revisit Are You Experienced and Axis Bold as Love (which I haven't listened to in a long time).
More Images from the show: