This article originally appeared on Boston Band Crush ).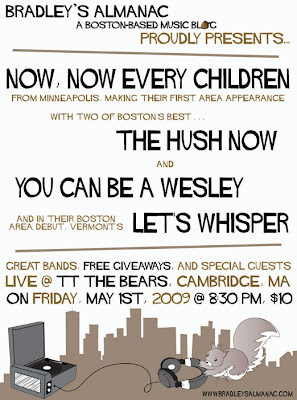 Another fantastic Boston music blog, Bradley's Almanac, is hosting a stellar show this very Friday:
Opening up is Let's Whisper (2/5ths of The Smittens from VT), You Can Be a Wesley (great Boston-bred indie pop), and The Hush Now (who just released a new album – which you can- and need to- download for FREE here – deliver the cutesy indie twee). Headlining are Minneapolis duo, Now, Now Every Children who Bradley's Almanac tells us are awesome–and we trust his judgement on this one! Also, he just posted mp3s and an interview with them, which you can read here.