Bamboo Garden was our first stop after getting off the train. This is Chinese food with mock-meats and tofu, not unlike Boston's Grasshopper-except maybe more authentic. We got General Gao's and Ma po Tofu, both really tasty.
Mighty O Donuts – We never made it to the actual mighty-o location (okay, we did, but it was closed and we only got to peer inside) but we ate some at a few coffee shops and after a week of eating Voodoo Doughnuts, they just didn't compare. They did taste more "healthy" than voodoo, if you're into that sort of thing.
Pizza Pi – is an awesome all vegan pizza place right in the U-district. Their default is to use Teese, but they also have all sorts of home-made white sauces (and nutritional yeast flakes at the tables!), and they were very happy to work around Mike's many and random allergies to make us a super-awesome pizza. Highly recommended.
Next door, we were excited to find yet another vegan grocery, SideCar for Pigs Peace (which benefits a pig sanctuary). They had a bunch of typical vegan goodies, and some tasty chocolates, and individually wrapped ice-cream bars, and cupcakes and Mighty-O donuts. It's also worth a stop if you're looking to stock up on the harder-to-find vegan pantry items.
Juliano's Pizza – is a regular pizza joint that was open late and near our hotel – that also has a vegan pizza! Their default is Follow Your Heart Vegan Gourmet Mozzarella (which I actually like better than Teese) but you can also get a garlic–tofu mash as your "cheese" just tell them that you don't want the FYH. They were super nice and there were some drunk people commandeering the internet/tv connection to play songs on youtube (to give 'em credit -they were picking some good tunes–mostly 60s stuff, Bob Dylan, etc) and encouraging us to write on the sharpie-graffiti covered walls (which, of course Mike took a picture of):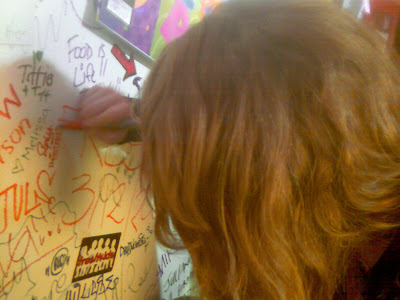 It's definitely an adventure at night!
Café Flora – was a substantial bus ride from downtown but totally worth it. This was the only "upscale" vegetarian restaurant that we found on the entire trip. As such, Mike picked on me a little when I ordered the Black Bean Burger with Yam Fries (which, happened to be really tasty.) Mike got some sort of arugula-chick pea croquettes which he said were delicious, and we started with deep-fried avacado –which was unusual and good. Dessert was a super rich, super moist chocolate cake, that was probably better than any chocolate cake that I've had out, but I'm not ready to say that it's better than my own.
Squid and Ink – I have a mixed review of. Mike got a chick-pea puree sandwich that was akin to a tuna salad sandwich and a tomato soup, which he raved and raved about. I got the pastrami reuben—which was okay, but I have a weird relationship with seitan where the more I eat it the more I dislike it, and this sandwich was huge slabs of seitan. It was alright, but not my favorite meal of the trip.
We tried to go to Carmelita in Greenwood, but got there an hour before opening (at 4 pm) and when we read the menu it was full of tree nuts and mushrooms (the two things Mike is most allergic to) so we left and went to…
Sunlight Café instead. Sunlight does hearty home-cooking with a slight middle-eastern flare. Mike had a stew/soup and a tofu stir-fry; I had falafel patties, it was alright –but not the most "gourmet" meal ever.
If you're in the downtown area, there isn't a whole lot of vegan to choose from, but we did find a really delicious Ethiopian place called Pan Africa Market that had a whole vegan section (that was even labeled vegan!) It was also way cheaper than we are used to paying for Ethiopian ($8 each instead of about $13) and they carried a tasty Moroccan beer (called Casa, I believe). Highly, highly recommended if you are stuck downtown and/or are famished from Pike's Place.
Cinnamon Works at Pike's Place – first shimmered at us like a mirage in the middle of Pike's Place Market by advertising vegan and gluten-free items. They had many vegan choices, and we finally decided on a frosted cinnamon roll. They listed ALL of the ingredients which I recall were really simple (and it's nice to know what is in the thing you are eating!) the roll was moist, flaky, I'll go so far as to say 'heavenly.' Such a treasure amongst the fishmongers!