This article originally appeared on Boston Band Crush ).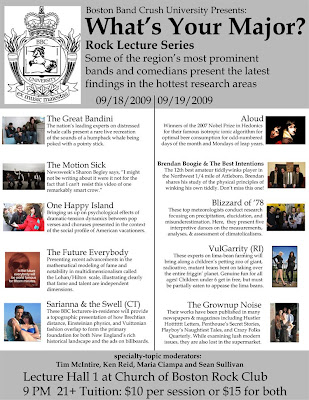 (click image to make larger!)
So by now, you've probably heard us babbling on and on about this wild two night event we're planning this weekend at Church of Boston. Here's what it is, Boston Band Crush is getting into the 'back to school' spirit and donning our teacher's pants to present some of the best rock AND comedy this town has to offer.
Friday, September 18th features:
The Great Bandini
The Motion Sick
One Happy Island
The Future Everybody
Sarianna and the Swell (CT)
Saturday September 19:
Aloud
Brendan Boogie & The Best Intentions
The Blizzard of '78
VulGarrity (RI)
The Grownup Noise
Both nights also feature the comedy of Tim McIntire, Sean Sullivan, Ken Reid, Nate Johnson, Duncan Wilder Johnson, and Maria Ciampa
Mike Epstein of The Motion Sick and Brendan Boogie of The Best Intentions got into the spirit of the event and broke the world record (confirmation pending) for number of colleges busked at in one day. They made it to 52! colleges (the record was a paltry 48.) Check out the video of the event right here:
ARVE Error: need id and provider

Mike and Brendan and Tim McIntire were also on Boston Emissions (WZLX) with Anngelle Wood on 09/13 to talk about the event. You can listen to the podcast at bostonemissions.com!
If all of this awesomeness wasn't enough – we want to save you some dough too! Our online only special is for a $15 two night pass to the event. If you pay at the door it is $10 a night – so this saves you $5 on the rock! Go here to paypal the cash: http://bit.ly/WhatsYourMajor
This event is 21+
Facebook Event Page