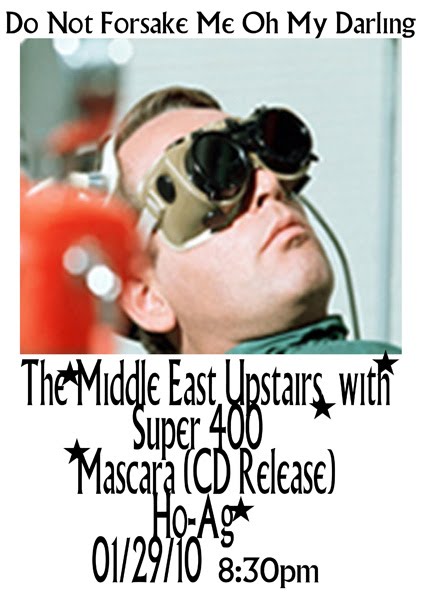 January 29th, 2010 – The Middle East Upstairs 9:00 SHARP
This show is going to be really awesome. Super-rock-trio Mascara are releasing their new CD, titled Fountain of Tears.
More on Mascara from Mascara: MASCARA, led by "the real-life model for Rock Band lead singer avatars" (Boston Magazine) and dubbed 2009's Best Super Trio (Boston Band Crush), worked long and hard on the new expansive, avant rock CD. Mascara is touring the Northeast and were recently described in the Boston Phoenix as "weird…like Joni Mitchell's jazz phase played by a spaced-out garage-prog band who drive a van with a wolf mural…Gang of Four-meets-Andrew Lloyd Webber."
Ho-Ag who are also amazing- are headlining the night – this is a band who has covered Devo for Halloween – what more do you need to know?
Super 400 are on right after us, they're a power-trio from Troy, NY that I've been hearing a ton of great things about (chick-bass-player-awesomeness).
We are very excited to open up this night of serious rocking (so come early!!)