Support the brand that supports The Motion Sick:


Friends!

Lots of excitement! We've got shows in Boston, CT, NYC, and Philly; we need your help to earn a little money via our new song for you to download for free; "30 Lives" makes for a great first dance at your wedding. Also, a little news about a bunch of forthcoming releases including 2 EPs and a 7″. Catch us now because after February, we'll be taking an extended break from playing live to do some recording.
---
First, the shows:
(as always, details at: https://blog.mikeandsophia.com/2012/08/the-motion-sick-landing-page/
01/23/10 The Lizard Lounge Cambridge, MA
w/ Paul Melancon, Brendan Boogie and the Best Intentions, Oranjuly
Read Brendan Boogie's interview with Mike about this show. We'll also be playing a bunch of older material that rarely rears its ugly head, so don't miss this!
01/27/10 10:30 PM – Live Radio Performance on WMFO (On the Town with Mikey Dee)
Listen at http://www.wmfo.org
02/04/10 The Space Hamden, CT
w/ Wench The Band, Fey Rey, The Field Recordings, The Press
All Ages!
02/05/10 Pub Webb Philadelphia, PA
02/06/10 Don Hill's New York, NY
w/Sidewalk Driver (one of our absolute favorite Boston bands is joining us in NYC, so don't miss this one – you will regret it!)
---
Download our novelty song, "Surfin' Retiree" free – click on "Current Contenders" and scroll down to The Motion Sick – if we get into the top 7 most downloaded in our group of 50 this week, we also earn $500, which we could really use toward finishing our next batch of songs, so we appreciate the help. We're out of the running by about 25 downloads now, so please download it, repost this, forward the e-mail on to friends, etc. We appreciate any help you can provide!
http://www.reverbnation.com/playlist7
It's slightly annoying that you have to become a fan of "Windows" on Facebook, Twitter, or Myspace to do this, but becoming a fan is pretty meaningless anyway, so hop to it…
The song is part of our 4 song novelty EP that will be released digitally very soon. The EP is a remixed, remastered, and sometimes reeverythinged collection of our Ash Wednesday residency theme songs. The first single, "Aquaman's Lament" has a music video that has just hit 10,000 views. Definitely check it out if you haven't yet seen it: http://www.youtube.com/watch?v=ueeySSBI1J0.
---
Getting married? We now have evidence that "30 Lives" makes for a great wedding first dance. These kind Texas folks showed us how it's done: http://www.the-motion-sick.com/2010/01/30-lives-makes-great-wedding-first.html
---
You'll hear more soon, but in addition to the novelty EP mentioned earlier, we've got a couple of other upcoming releases.
We're very excited to be releasing a split 7″ single with the fine band Golden Bloom next month. The split will contain our cover of their hit, "Doomsday Devices" and their cover of our wedding-first-dance favorite, "30 Lives," both tweaked for optimal foot stomping. We recently picked the winning cover in our artwork contest. Check out the winner and the runners-up at: https://blog.mikeandsophia.com/2007/04/httpwww-mikeandsophia-com200704motion-sick-marathon-html/.
Finally, and most mysteriously, after February, we will go into hiding in a soundproof bunker buried in the deepest depths of the ocean to record our most brutal, terrifying, and jovial set of songs yet. We won't be playing any shows during that time, at least not until Lady Gaga or Slayer calls and asks us to join her/them, so you had best come to one of our upcoming shows or miss us for many months…
Fistbumps, nods, hugs, and/or kisses,
The Motion Sick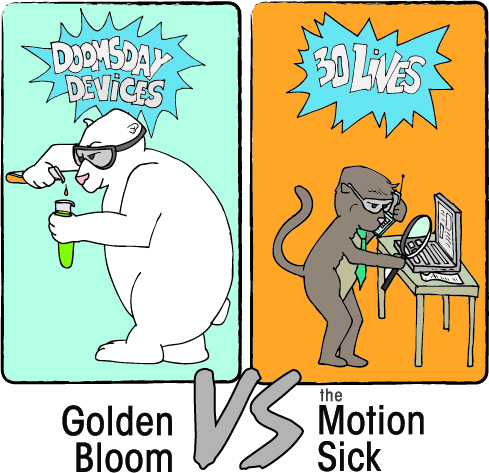 iTunes Amazon Mp3 Rhapsody eMusic CD Baby
UPCOMING SHOWS
WMFO
Medford, MA
Wed Jan 27 10
10:00 PM
The Space
Hamden, CT
Thu Feb 04 10
07:00 PM
Pub Webb
Philadelphia, PA
Fri Feb 05 10
09:00 PM
> See More / Details
"After suggesting another Chris Carrabba copycat, The Motion Sick overturn a Dumpster full of chunky guitar fuzz, smooshing his pompadoured noggin." SPIN Magazine
"Nerd Rock at its finest!" SPIN Magazine
---
ReverbNation Twitter MySpace Facebook Last.fm
---
WIDGETS (Put our stuff on your web pages and blogs!)
TuneWidget Store Grab Box Video Gallery Music Player Music Player (Blog Sized) Mini Music Player Micro Music Player Show Schedule Shows Map Show Schedule (Blog Sized) Press