The Michael J. Epstein Memorial Library is really excited to present to you our third show of all time, the final opportunity to see us live in 2010! We're REALLY excited to be part of shows that transcend their own rock-show packages to become events and places to share an immersive art experience. We've got music, comedy, performance, visuals, and really, just a big old gathering of great artists and musicians!
Before we get to the details, in case you're playing catch-up, here's some video and more from our second-ever show – including comic-strip re-enactment of some events and some video of our first-ever show. We've also got some MP3s from a small-scale performance we did on WZBC's Mass. Ave. and Beyond.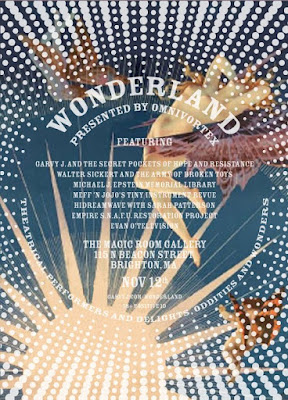 Fri. Nov. 12th, 2010, 7:30 PM – 18+
Omnivortex presents:
Garvy J. and the Secret Pockets of Hope and Resistance
Walter Sickert and THe ARmy of BRoken TOys
The Michael J. Epstein Memorial Library
WonderLand.
Be.
Experience.
another world . another time . another place
~ dress fantastic ~ be fantastic ~
Advance Tickets (this lineup is likely to sell out)
The bands on this bill are really phenomenal! Here's a little taste!
Garvy J. and the Secret Pockets of Hope and Resistance (Garvy J is known for his work with The Elevator Drops and The Rentals)
Walter Sickert and THe ARmy of BRoken TOys (they put out one of my favorite albums of 2010, SteamShipKillers!)

The Michael J. Epstein Memorial Library

In addition to the 3 bands, the night features the sights and sounds of:
* Art displays by: E Steven Curator of Empire S.N.A.F.U. Restoration Project, and other notables
* Evan O'Television, Master of Meta and Media Comedy
* Brainwave and Consciousness Sonic Experience by Highdreamwave (Scott Dakota formerly of The Moors and Valhalla Kittens, teamed with Josh Hager) with Living Statue Sarah Paterson
* Theatrical performers and delights, oddities and wonders
* Abstract and Dream Video by BriAnna Olson and Noah Blumenson-Cook
* Busking you in: Meff 'n Jojo's Tiny Instrument Revue