Mike posted this over at The Motion Sick Blog I think it sums up where the band is at really well, and I thought it deserved to be posted over here: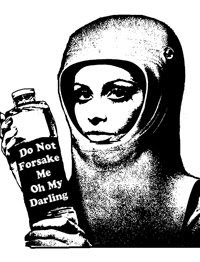 We in The Motion Sick land have all been involved in a variety of musical projects throughout our rock and roll lives. Currently, I am involved in one band beyond The Motion Sick. That is Do Not Forsake Me Oh My Darling. The band is named after a particularly odd episode of the TV show The Prisoner – an episode which was named after lyrics from the title song from the amazing and sad film High Noon.
The song and film are about honor, moral obligation, fear, and death. The Prisoner is an allegorical science fiction show about breaking free from societal norms and maintaining individuality under the thumb of faceless heirarchy and big-brother style totalitarianism. Because these were all precisely the themes of the songs we were preparing, we decided that the name fit well.
We are a two-piece experimental art-rock band with an extremely minimalist approach. Sophia Bliss, formerly of Blitzkriegbliss plays drums and sings. Sophia may also be known to fans of The Motion Sick as the author of the song "Jean-Paul," which appears on our second album, The truth will catch you, just wait… My role in this band is playing bass. I run the bass through both a bass rig and a guitar rig.
The songs are chaotic, but highly structured and simplistic with frequent repetition and a good deal of open space. We are influenced by a sort of fictional, austere post-industrial milieu and the music recalls the sound of proto-punk/new wave/no wave bands and dark songwriters like Joy Division, Einsturzende Neubauten, The Velvet Underground, Sonic Youth, Diamanda Galás, Nina Hagen, Teenage Jesus and the Jerks, Nick Cave and the Bad Seeds, PJ Harvey, and Leonard Cohen.
Arthur Ashe Wednesday is our first-ever live performance. We're essentially playing it as a preview of what's to come. We'll be playing a short 5-song set and probably won't perform again for several months while we continue to work on our songs. Right now, we're still experimenting with our self-imposed limitations: 2 members, bass and drums only, and few effects (currently using only two pedals plus a tuner), and we're trying our best to break away from some of the conventions of rock music while still keeping the songs accessible. The construction of this music has been a wonderful process for us, but still feels somewhat incomplete as we continue to grow into our ideas. As such, we still have no recordings yet. For a very general idea of the sound, you can listen to our prior work as Blitzkriegbliss!.