On Wednesday October 1st I had the opportunity to see Juan Angel Chavez's installation in the Paine Gallery at the Massachusetts College of Art titled "The Speaker Project".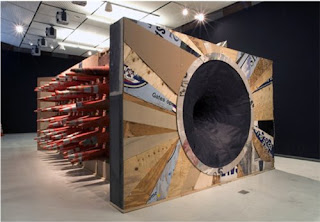 The piece consists of several large structures which are designed to modify sounds made inside them by dispersion, absorption, and amplification. In addition, there are a variety of tubes, sheet metal, bottles, construction cones, and other found objects connected to the structure that can be used to create sounds on their own.
Throughout the course of the exhibition there are numerous performing groups using the space (the complete list can be found on the project's blog here). On the 1st, I made it a point to see the band T.A.J., which is self-described as "Psychedelic Stoner Metal". T.A.J. is collection of Boston-Area artists Joe Wardwell (guitar), Alexander De Maria (bass), and Todd White (drums). T.A.J. sounds sludgy, manic, crazy, intense, and frantic, all at the same time, while working with space to create tension between (literally in some cases) blood-spattering stretches. They worked well with the Speaker Project, and the structure's tendency to amplify and modify sounds around it only helped to propagate the ferocity that was happening inside.
Some iPhone pictures:
-xxxxxxxxxxxxxxxxxxxxxxxxxxxxxxxxxxxxxxxxxxxxxxxxxxx-
The Motion Sick Blog – http://themotionsickreviews.blogspot.com/