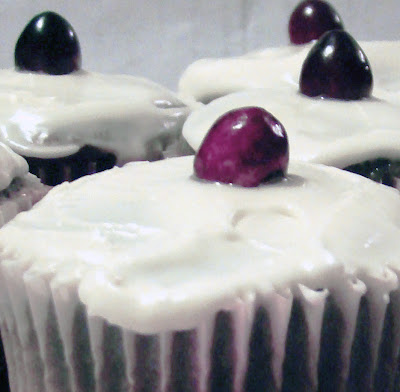 So a few months ago I joined the Iron Cupcake Challenge.  Basically each month you are issued a directive with an unusual (for cupcakes) ingredient to make a cupcake with. Previous months have included bacon, wasabi, and basil.  I skipped last month, which was cheese.  This month the ingredient is pretty straightforward and festive: cranberry.  My recipe is fairly simple, and is tart but sweet.
Vegan Cranberry Cupcakes with Vanilla Icing
Makes 12 cupcakes
Ingredients:
1 cup cranberries
1/4 cup water
2 tsp sugar
1 1/3 cup flour
1/2 tsp baking powder
3/4 tsp baking soda
1/4 tsp salt
3/4 cup soy milk
1 tsp apple cider vinegar
1/4 cup canola oil
1 tsp vanilla
2/3 cup sugar
Icing:
2 tbsp earth balance soy margarine
1 tbsp tofutti sour cream
1 tsp vanilla
2 cups powdered sugar
2 splashes of soy milk
Pre-heat oven to 350 degrees, line a cupcake tin with 12 wrappers.
In a small saucepan simmer the cranberries, water and 2 tsp sugar and mash
cranberries with a potato masher or fork until cranberries become sauce-like: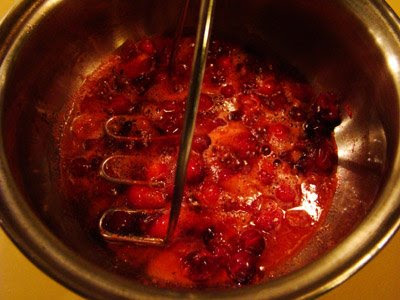 Combine soy milk and apple cider vinegar and set aside to curdle.
Mix all of the dry ingredients, except for the sugar. In a seperate bowl
mix together soy milk/vinegar mixture, oil, 2/3 cup sugar, vanilla. Then
stir into the dry ingredient mixture. The batter will be a very hanndsome shade of pink: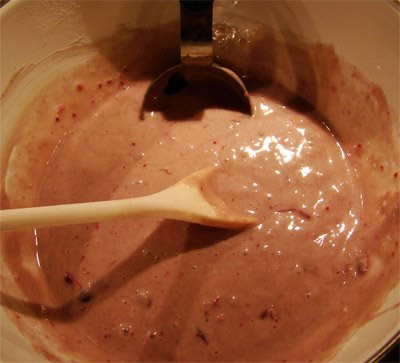 pour about 1/4 cup of mixture into each cupcake wrapper. Bake 18 minutes. Now, I interject a story from my friend Joe, who when was told of this challenge said, "I made chicken with cranberries once, and the chicken turned blue, so let that be a lesson to you" It apprently was not a lesson to me, because I was surprised and slightly disappointed when I pulled the cupcakes out of the oven and they were blue, so if you don't want blue cranberry cupcakes, I guess use some food coloring: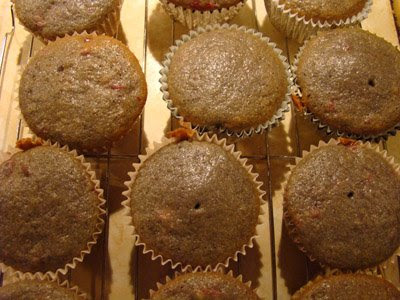 For the icing: with hand mixer combine the earth balance, tofutti and
vanilla, add the sugar one cup at a time, and a splash of soymilk when
icing is too crumbly. Mix at least 5 minutes on high.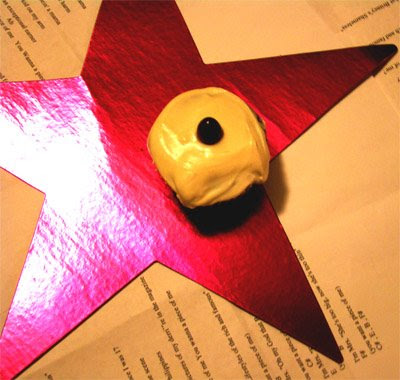 I'll come up with a prize if anyone can figure out what is written on the pages. Put your guess in the comments section.