A while back, my friend Maureen (an ice-cream maker extraordinaire) mentioned to me that earl grey and chocolate make an excellent flavor combination. It took me a bit to track down a company that sells food-grade bergamot (earl grey) extract (though I could have just used tea), the bottle they sent it in was quite impressive: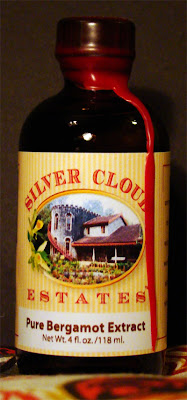 So, I ran with it this month in the iron cupcake challenge, and made chocolate cupcakes with vanilla earl grey icing: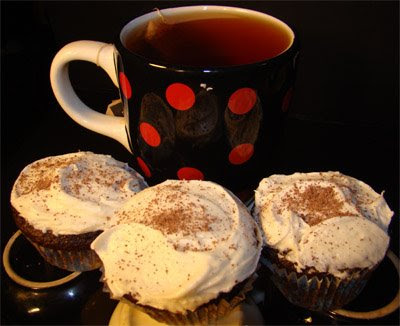 It was an interesting combination, the earl grey has a smokey orange flavor, and smells like perfume, they went over quite well with the work crowd.
Per regulations, the list of prizes this month:
Our December ETSY PRIZE-PACK is from artists:BETTY TURBO – well as a pair of cupcake earrings from LOTS OF SPRINKLES at . PLUS, IronCupcake:Earth can not forget our good friend, CAKESPY, , who is now going to be doing a piece for our winner each month until further notice – sweet!As an added bonus for December we have adorable cupcake pincushions complements of SWEET CUPPIN CAKES BAKERY AND CUPCAKERY SUPPLY, http://www.acupcakery.com/index.html.
Last and certainly not least, don't forget our corporate prize providers: HEAD CHEFS by FIESTA PRODUCTS, http://www.fiestaproducts.com/, HELLO CUPCAKE by Karen Tack and Alan Richardson, http://blog.hellocupcakebook.com/, JESSIE STEELE APRONS http://www.jessiesteele.com/; the CUPCAKE COURIER http://www.cupcakecourier.com/; TASTE OF HOME books, http://www.tasteofhome.com/. Iron Cupcake:Earth is sponsored in part by 1-800-Flowers, http://www.1800flowers.com/ .