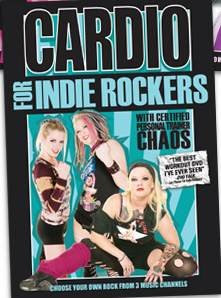 Cardio For Indie Rockers, a new workout DVD in the Fitness for Indie Rockers line will be released on February 10th. There's a writeup in The Onion A.V. Club's The Hater Column, which is full of all of the snarky comments you'd expect, of course.
They quote the press release, which says:
The Fitness For Indie Rockers line is unique not just for its rock aesthetic and bloodpumping music, but also for the technical innovation that enables audiences to choose from three selectable channels of music, picking a music style to match their mood. "CARDIO FOR INDIE ROCKERS" includes Indie, Heavy, & Punk channels, featuring 40+ tracks of music ranging from hardcore heroes Walls Of Jericho to indie darlings Eudora to Dance-Dance-Revolution-veterans The Motion Sick.
Buy it from Amazon: