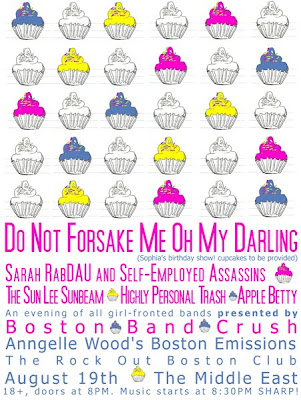 Hello Friends,
It has been a while since you've heard from us. While Blitzkriegbliss is no more, we've got a new project called Do Not Forsake Me Oh My Darling. This band is a two-piece, Sophia on drums and vocals and Mike on bass.
We will have recordings ready very soon! Until then, you can check out our new band photos, a live video shot during a test show last year and find out more information on our new website: http://donotforsake.com.
Our first show is this Wednesday, August 19th at The Middle East Upstairs. We're super excited about the excellent bill, a celebration of women in ROCK with: Apple Betty, Highly Personal Trash, The Sun Lee Sunbeam, Sarah RabDAU and Self-Employed Assassins.
This is also my birthday, and I will be making a TON of VEGAN cupcakes. The biggest present I could ask for is for you to consider coming out for the show!
The Rock Out Boston Club is sponsoring this show, they gather people at a bar to socialize before events, this month they are meeting up at Miracle of Science at 8pm, more information is here. I'm also delighted that Boston Emissions on WZLX hosted by Anngelle Wood is also sponsoring the event.
The Facebook Event for the show.
Details:
9:00: Apple Betty
9:45: Highly Personal Trash
10:30: The Sun Lee Sunbeam
11:15: Sarah RabDAU and Self-Employed Assassins
12:00: Do Not Forsake Me Oh My Darling
Love,
Sophia