Tons of tour photos on Flickr at http://bit.ly/DNFMOMDTour2010 and on Facebook at http://www.facebook.com/album.php?aid=2384673&id=1817487, http://www.facebook.com/#!/album.php?aid=2385257&id=1817487, http://www.facebook.com/album.php?aid=2384885&id=1817487, and http://www.facebook.com/#!/album.php?aid=2386913&id=1817487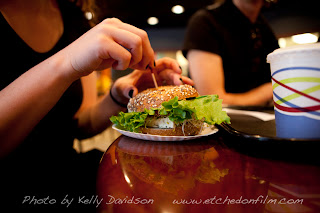 (This entry is a mix of Sophia and Mike writing, so we'll leave it to you to guess who the "I" refers to in each sentence.) We woke up in Charlottesville; got coffees and bagels (bagel sandwich with herbed tofu!) and headed out to the Air & Space Hangar.
I walked in and was immediately disappointed that I was looking at a room full of planes. But, then I found the Space room and was MUCH happier and was able to get into looking at the planes and discussing which of the tiny ones I needed to fly away in.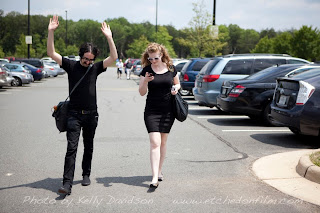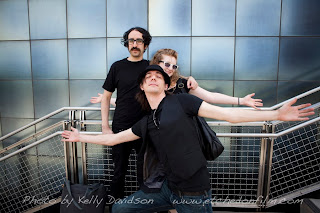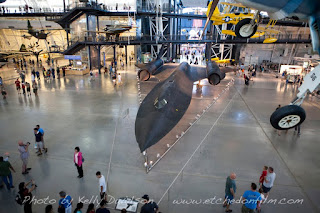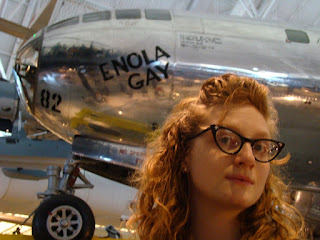 I (Okay this is Mike) really love visiting Air and Space.  I find myself full of awe staring at planes and missiles and the such that have made aviation and general history. It's bizarre to look at the Enola Gay and to read the extremely clinical description of the plane and its involvement in WWII.  It's almost disturbing to see it in such a context, but nonetheless, very powerful.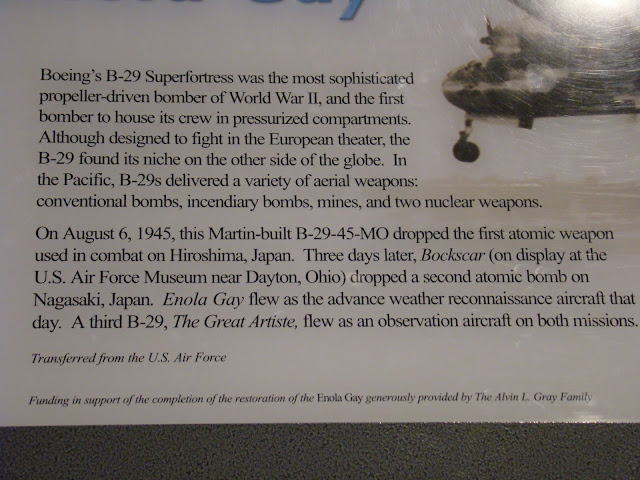 We also goofed around at the museum….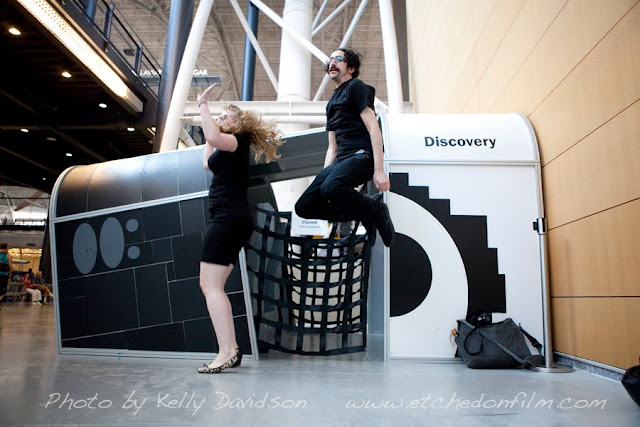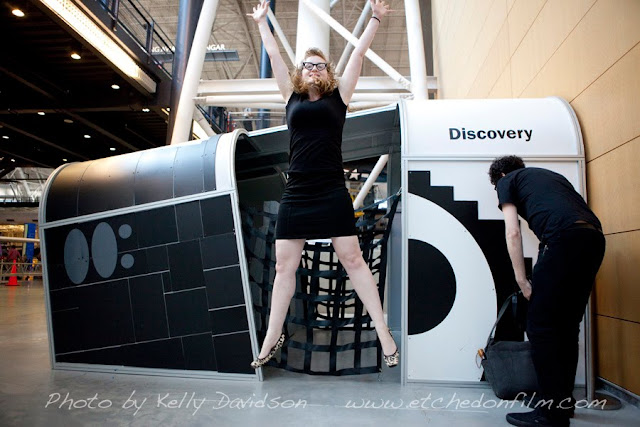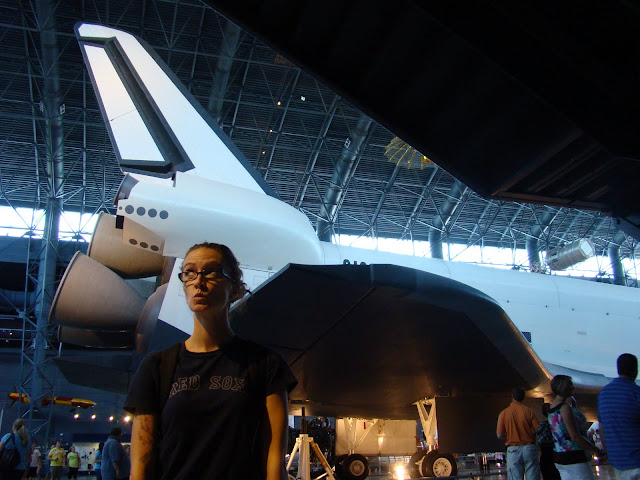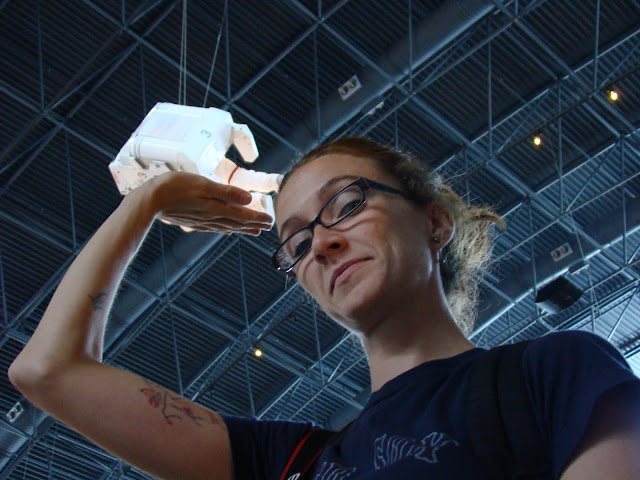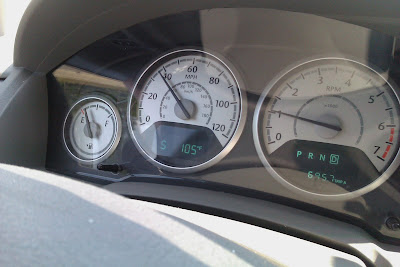 Then we moved on to grab lunch with a Kelly's friend – it was a "beach shack" and it was literally 105 degrees out -so we refused to sit outside.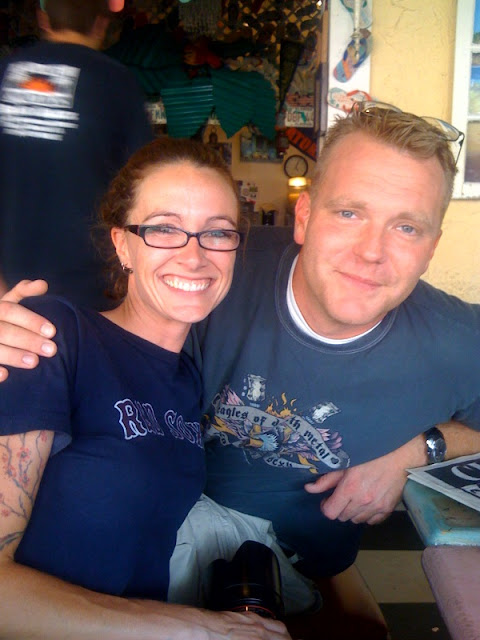 They had a separate vegetarian menu – I got the "phish and chips" (beer battered tofu – Mike got barbecue tofu) despite their misguided music reference. It was okay – just a bit greasy – and needed a ton of malt vinegar (which I LOVE) and hot sauce. After, we camped out in a Starbucks to keep cool and catch up on the Internet for a bit.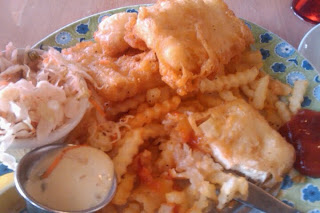 Lessons from the road #8: Kelly Davidson is not allowed near doors and seat belts, avoid them at all costs.
Lessons from the road #9: Always have a happy song to break into when tense moments occur.
Lessons from the road #10: do not doubt the beautiful and talented Kelly Davidson
Lessons from the road #11:You realize how attached to your phone you are when you're on the road, and your screen turns in the Rorschach test.
Lessons from the road #12: Free Wi-Fi is a God send.
Lessons from the road #13: Sometimes using your eyes is a lot easier than using your GPS, especially when the gas station is 50 ft away.
Lessons from the road #14: Yellow lights + an Amp behind your head + Sophia = severe headache.
Lessons from the road #15: I generally dislike Bright Eyes, which means it'll be played constantly on the road. Don't announce music you don't like.
Lessons from the road #16: Make friends on the road…it's cheaper than renting a hotel room.
Then we made our way down to the venue. They had Teese vegan cheese – so Mike and I were delighted – being vegan in DC has been very easy so far. They also gave us a much needed fruit plate – first fruit I'd seen in several days! The venue (and Sasha and Damian) treated us so well, it almost felt wrong for rock 'n' roll.  Kelly, Bishop and I tore it up on the ping pong tables – it's hard not to have a ton of fun while playing ping pong.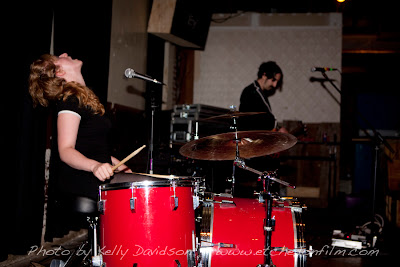 Then the tables got folded up and the rock got started – We played with and got videos of Monolithic Cloud Parade and She Bears, both in from Ohio.