If you've run into Mike or I in the last month (or, if you're friends with us on any variety of social networks) you've undoubtedly been barraged with the fact that we're headed out on our very first tour! We're a little bit freaked out, but very excited. We'll be blogging extensively and posting to twitter and facebook (so now's a good time to follow/friend us). We're very pleased that the beautiful and talented Kelly Davidson has agreed to come along with us to photograph and document all of the trouble we plan on getting into. We're also bringing along Agent Bishop as our tour manager – I just fielded his 10th inquiry as to whether we're actually going to come pick him up or if he'll get left behind – we may have to decide tomorrow!
So, at 12 tomorrow we pick up our rental van. Kelly just dropped off her bags (as we're picking her up from a shoot in Stamford on our way to our first stop of Brooklyn), we practiced some new songs, and now we're slowly packing up all of our stuff, and I have to decide how much of the bathroom do I actually need? I think if I could fit the shower, I would bring it. I also bought a bag of rice cakes for the road – so I don't starve to death! Which brings me to another point, I plan on fully documenting what I eat while on tour, to show how a vegan can get by out in the wild. Some of the cities we're playing are civilized and have prominent vegan options, but the highway is a whole other story.
So, without further ado, here's a flyer of me driving away in our tour vehicle and our tour dates!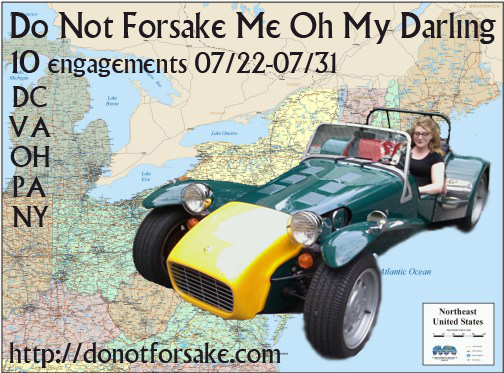 Day
Date
Venue, City
Other Info
Thurs
07/22/2010
Don
Pedro, Brooklyn, NY
doors at 8pm
Fri.
07/23/2010
Twisted
Branch Tea Bazaar, Charlottesville, VA
with Heavy
Cream and Nurse
Beach $5
Sat.
07/24/2010
Comet
Ping Pong, Washington DC
10:30PM
Sun.
07/25/2010
Free show! We're on at 9PM SHARP!
with PBR and The
Matrimonials
Mon.
07/26/2010

TBA

Tues.
07/27/2010
South
Park Tavern, Dayton OH
The
Buddha Den NTRO/XPO Presents: Outright
Liar, DNFMOMD FREE/ALL AGES – on at 10PM
Wed.
07/28/2010
Pats
in The Flats, Cleveland, OH
Thurs.
07/29/2010
Smiling
Moose, Pittsburgh, PA
with The
Van Allen Belt and Salvatore Farina of Sundog
Peacehouse, $5 – on at 9:30
Fri.
07/30/2010
Monty's
Krown, Rochester, NY
with edge
Of jupiter
Sat.
07/31/2010
Merge
Cafe, Buffalo, NY
Sat.
8/7/2010
The
Middle East Upstairs, Cambridge, MA
with: The
Downbeat 5, This
Blue Heaven (CD Release),
The Sun Lee Sunbeam, St.
Helena, Naked
on Roller Skates. Show starts at 8PM SHARP. 18+
as you may notice, Monday 7/26 is still open – so if you know of something cool between VA and OH – let us know – this includes impromptu Monday night party time jamz.
Also, we'd love if you'd like to offer us a place to stay – we'll reward you with our winning company and volatile conversation skills! (I think we're set for the DC and Rochester/Buffalo dates)