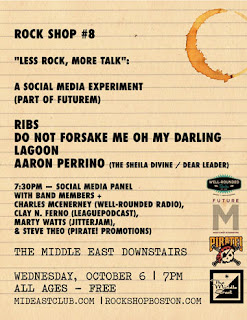 The Rock Shop social media experiment last night was a grand time. Big thanks to Steve, Clay (it was his birthday even!), Charles, and everyone else for letting me be involved with the panel and for letting Do Not Forsake Me Oh My Darling rock The Mid East Down!
My "manifesto" on social media and networking (written in the process of outlining some notes so I had at least a chance to sound like I knew what I was talking about on the panel) has become the most popular post on this blog ever, in just 1 day! Exploit Boston! also kindly wrote up a little piece on it.
I really enjoyed sitting on the panel and I hope that some of what we said was useful to people trying to figure out how to navigate their band's presence.
A little media round-up (I'll add new things as I find them):
Safe Digression has a really thorough summary and critique.
Morgan's Corner recaps the event with some quotes and a summary.
Antler Agency reviews the panel and outlines what we said and perhaps more importantly, what we didn't say!
If you've ever wondered what I look like sitting on a panel (I've wondered), you can check out this Flickr set. Some more photos on this feed.
Lagoon also provided a nice recap of the night.
The bands were really fantastic and I was really glad to have my first opportunity to hear Lagoon and RIBS and to have another opportunity to hear Aaron Perrino play.
Videos: