We started the rock in NYC (after Boston of course!) and had some Brooklyn fun times at Cameo Gallery after a few challenges and delays brought on by a sudden health inspection at the venue! Review by What's Good in NY?
First, the way down to NYC:
What better way to set a tour forth on the right foot than to find $1 laying in the lawn at a rest stop next to the van?
Would you like to touch a shark?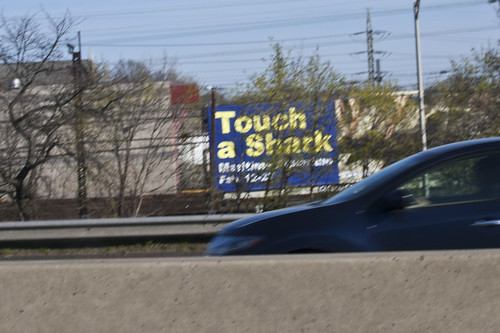 by Rachel Blumenthal
Behind the scenes! The health inspector attacks! The show was delayed about two hours because the health inspector showed up and the venue wasn't even sure if they would be shut down. In the end, they got an A! An A! Still, the two-hour delay meant we lost a lot of audience members.
Monsters in the Green Room by Rachel Blumenthal!
Tanya Palit provides some extremely sage advice!

We were a little frazzled to get going, but here's a neat visual perspective on "Holy Ghost," even if the performance/sound is a little shaky.

Some Neutral Uke Hotel Video

and some Golden Bloom videos (video 1 – video 2)!
After driving all night to Drums, PA, we awoke fresh and ready to perform "Amylee" live in the hotel parking lot.