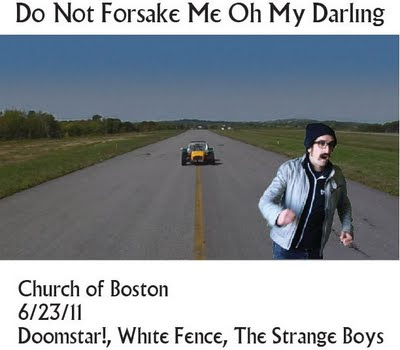 Thursday, Doomstar! and DNFMOMD have the pleasure of opening up for White Fence (Tim Presley of DARKER MY LOVE/THE FALL) and The Strange Boys at Church
Thursday, June 23rd
Church of Boston
with: Doomstar!, White Fence, The Strange Boys
$10adv/$12 day of, 18+, 8 PM – we're on at 8:45 sharp!
FB event.
It'll be a whole evening of psychey-garagey tunage.
Doomstar (who, to my delight, remind me a bit of The Cramps):

White Fence:
Here's a link to a download on Fader -"A lot of bands have tried to bite Love's paranoid, smoggy drug trips and just ended up sounding like a bootleg version of The Doors—which no one wants to hear (except maybe Val Kilmer)-but on this track, White Fence got the good songwriting part down, which is all we really need."
and The Strange Boys (Austin, TX garage-rockers)