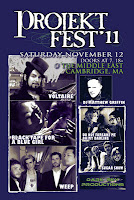 Do Not Forsake Me Oh My Darling is delighted to be one of this year's local openers for Projektfest (presented by Dark Sky Productions)!
"Projekt is America's premier independent record label specializing in passionately intense music in the darkwave, shoegaze, ethereal, ambient & darkCabaret genres. Begun 27 years ago in 1983, and releasing its 266th CD in 2011, Projekt presents a vast collection of beautifully spellbinding masterpieces. The successful Projekt Festival (previously held in '96, '97, '98, '02, '07 & '10) returns November 12th – for the first time in Boston! The fest is an opportunity for fans and bands to meet and celebrate the music they love."
On the bill: Voltaire "he is a songwriter whose music can best be described as a collection of murder ballads, tongue-in-cheek exercises in the macabre, with just enough bawdy songs about Star Trek and Star Wars to keep a convention audience rolling in the aisles."
Black Tape for a Blue Girl "since 1986, black tape for a blue girl has released stunning deeply introspective albums."
Weep "aggressive and firmly structured new dark pop"
Locals! Sugar Snow:
and DJ Matthew Griffin and vendors!
DNFMOMD will be joined by on of our very favorite burlesque performers, Porcelain Dalya and we may be unveiling a new song, "Episode 15: The Girl Who Was Death"