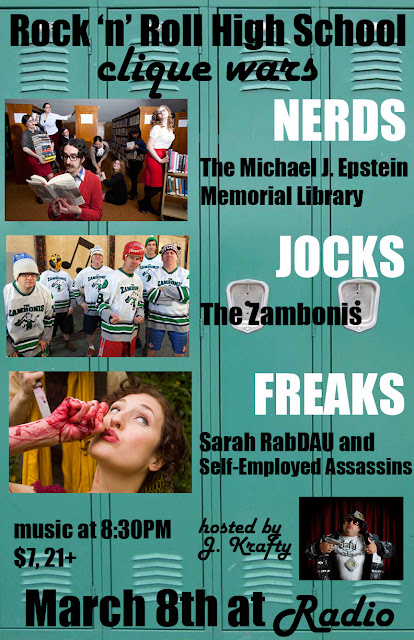 Rock 'n' Roll High School: Clique Wars! Nerds vs. Jocks vs. Freaks!
Sarah RabDAU and Self-Employed Assassins, The Zambonis, The Michael J. Epstein Memorial Library, and J. Krafty take over Radio Bar in Somerville on Thursday (3/8) to finally settle who runs Barter Town!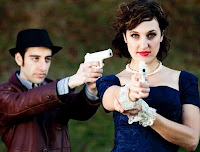 Sarah RabDAU and Self-Employed Assassins consistently put on some of the best performances in Boston – here is Sarah's battle cry: "I hated high school vehemently. I hated everything in general unless it was covered in rain and there was a journal and a box of paint nearby. I would spend my lunch hour alone, writing songs using strange and disjointed metaphors to express the inexpressible (me). So why would I venture back to that time, allowing myself to once again be called a "freak" as I walked down the halls? Because there is a "ROCK n ROLL High School Clique War" going on, Freaks vs. Nerds vs. Jocks, and I want to WIN. Win what? I have no idea. But all I know is that our "clique" is filled to the brim. We are all Freaks. "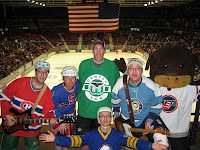 The Zambonis – are 100% hockey-themed. They were even commissioned to create a theme for The Boston Bruins. In March of 2006 The Zambonis catchy hit "Hockey Monkey" was chosen by FOX TV as the theme song to a new sitcom called "The Loop."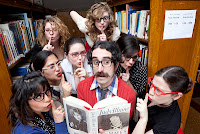 The Michael J. Epstein Memorial Library – all librarian, all bespectacled, all the time. The Michael J. Epstein Memorial Library contains tens of thousands of volumes detailing the history of rock music.With songs about Judy Bloom and menstruation, intergallactic space sharks, and not getting too close while dancing, there aren't any nerds bigger than these!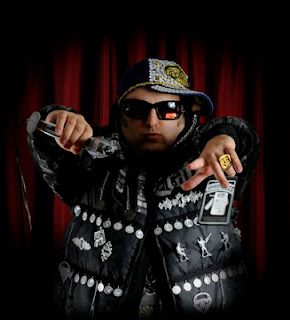 J. Krafty will be jamming it out between sets with his gangsta ruminations on everything from crab nebulas (nerds) to bigfoot (freaks) to being a crafty gangsta (jocks?!)
WHO WILL WIN THE BATTLE? NERDS, JOCKS, OR FREAKS? WILL YOU BE PROM QUEEN? WILL THE PUNCH BE SPIKED? COME TO RADIO TO FIND OUT! THURSDAY, MARCH 8TH. FB EVENT.