I realize that by posting this, it will seem that I am somehow complicit in the affairs of Frank the Glitter-bombing fox (Frank Fox's facebook page). I assure you that I am not, but I do find the whole thing to be a fascinating affair.
First, let me say, Hilary Hughes from the Dig rightfully chewed out the fox for unexpectedly tossing glitter on performers. I personally hate glitter more than just about anything in the world, and I'd be likely to freak out if I got hit with one of these attacks (maybe I am inviting trouble by admitting this). Anyway, the glitter thing was not terribly nice, but the two attacks I saw were handled pretty well by the victims. We actually happened to get both on video (see videos below). I know others have reported additional attacks, but these were the only two that we witnessed.
Anyway, first the Fox (who we had incorrectly called a wolf) sent a threatening letter to The Dig, which I had missed, but was apparently published back in April. I don't know if Frank has been active since, but I haven't seen nor heard anything. Today, both Sophia and I (and presumably others) received an e-mail with an MP3 rant attached.
Again, although perhaps I should not be encouraging this, I do find the whole thing fascinating (and I always love art and mischief), so here's the manifesto (I also presume that Frank is okay with me sharing this; I haven't asked for permission):
—
This was the e-mail we received:
From: "F. Fox"
THIS is NOT 2 InCiTe FEAR, UNless You FEaR the TRUTH
I am NOT a WOLF!
FRANK
—
The Dig letter: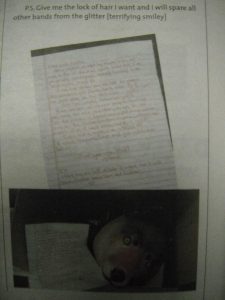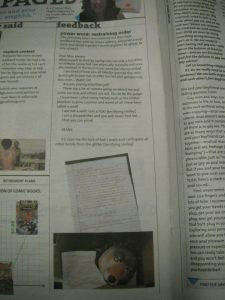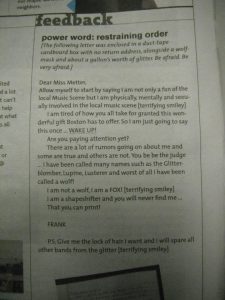 The glitter-bombing videos:

I do have a guess as to the identity of the Fox (though I am not certain), but I probably won't participate in actively revealing it unless something more dangerous or harmful is happening. Also, I could be wrong. One theory, based on differences in the appearance of the fox during these incidents, is that there is actually a ring of people (or a skulk of foxes) involved.