When I'm not documenting TEN rehearsals and interviewing the cast and crew, I'm most often writing about food, so it is with great pleasure that I introduce the TEN recipe series. Yes, actresses do eat, and it just so happens that we have some great cooks amongst the cast and crew, so we won't be going hungry on set. Because the group has a variety of dietary restrictions, the meals we eat together during the week of shooting will be vegetarian (often vegan), simple, and group-friendly.
Kicking off the recipe series, we have the cauliflower "risotto" that Porcelain Dalya, playing a co-ed, brought to the second rehearsal. This quick recipe can be made with or without dairy, and it can be served hot or cold.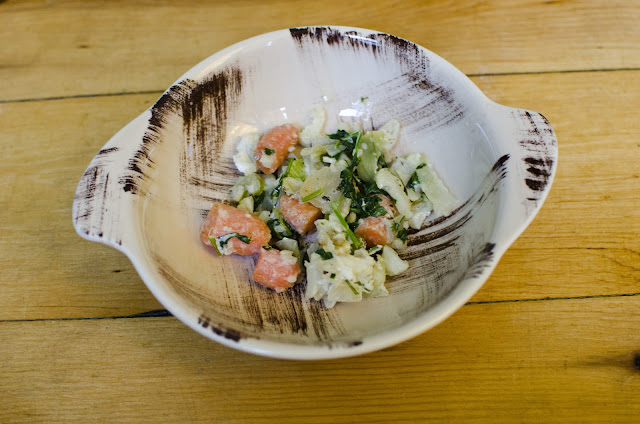 Porcelain Dalya's Cauliflower "Risotto"

INGREDIENTS
1 medium onion
3 stalks of celery
baby carrots
1/2 head of cauliflower
fresh cilantro
1 tsp oregano
1 tsp basil
pinch of cinnamon
goat cheese (substitute avocado for vegan)
for sautéing: EVOO, coconut butter, or butter
DIRECTIONS
In a medium pan, sautee the onion in EVOO, coconut butter, or butter (depending on your taste preference and whether you want it to be vegan).
Add roughly chopped celery and baby carrots.
Chop cauliflower and pulse in food processor to get rice-like bits.
Add cauliflower to pan.
Cook for 5-10 minutes.
After removing the mixture from heat but while it's still hot, add goat cheese or avocado to taste.
Add cilantro, oregano, basil, and cinnamon.
Stir well and serve hot or cold.