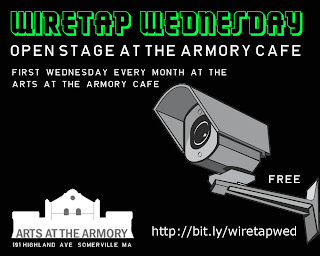 November Wiretap Wednesday is here! We are sad to say that this will be our last Wiretap under our hosting. We're very proud of what we've done with the night and have truly enjoyed hearing many inspired performances over the last year and a half. Our commitments to our own projects are just so overwhelming at present that we have to pass the night on. We're very happy and excited to announce that the very hilarious JUSTIN P. DREW will be taking over as host starting in December.
Wiretap Wednesday is a low-stress open mic that welcomes music, comedy, poems, and storytelling!
Our feature performer tonight is Glenn Michael!

Open Mic'ers:
Adam Langlois
Jim Waugh
Pete
Ben Quick
Ernie Doeg
Justin P. Drew
Romana Hamiton
John Daire
Amy Kucharik
Rusted Bucket
Ryan Alvanos
Sam Staxx
Faulke Yue
Shawn Dierdre
Shawn Fogel