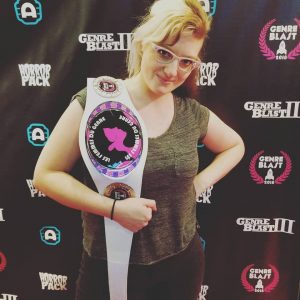 Sophia was honored at GenreBlast Film Festival 2018 (where we also had Clickbait and Leopard premiere) with the wrestling belt for Les Femmes Du Genre!
The Les Femmes award recognizes "an outstanding woman in genre filmmaking," and during the awards, Nathan Ludwig noted that its recipient was chosen for her work in the community, directing, producing, cinematography, and more! (Sophia does it all!) Quite a cool honor.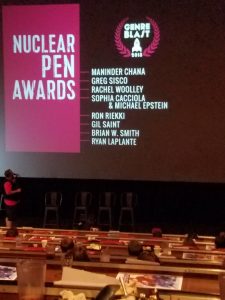 Sophia and I also had the honor of receiving the Nuclear Pen Award for having multiple screenplays place as finalists in the screenplay competition!
Genre:  Folk Horror
Logline: The balance of light and darkness is disrupted as a young girl born under mysterious circumstances in a superstitious coastal town is recruited by a dying witch to carry on her order's tradition.
Comparables: The Wicker Man, Lisa & the Devil, Suspiria, Valerie & Her Week of Wonders
Status: Complete Script / Seeking Funding
Screenplay Finalist: GenreBlast Film Festival 2018; Women in Horror Film Festival 2018
Winner: Epic Pictures/Scare LA Pitch Competition
Request Script  /  Pitch Book  /  Pitch Website
Genre: Dystopian Sci-Fi Anthology
Logline: In a bleak, dystopian society where religion, government, and media have merged, a law-enforcement unit is tasked with hunting down "unnatural" citizens.
Comparables: 1984, Brazil, Black Mirror, Philip K. Dick
Status: Sample Segment Script Complete; Overall Script Development in progress
Segment Short Screenplay Finalist: GenreBlast Film Festival 2018