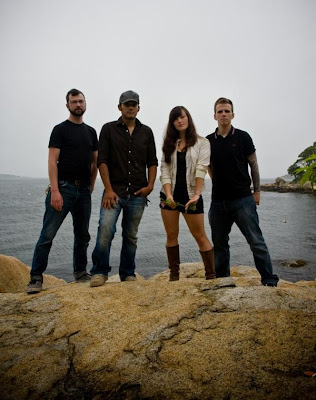 In addition to being named after Zardoz, one of the '70s finest sci-fi displays, Where the Land Meets the Sea is a recent indie, proto-emo, synthy joy that includes members of rumble-winners Campaign for Real Time and The Cold Beat. In addition, co-singer Nikki was a former member of the band Okay Thursday along with three of us from The Motion Sick.
The band embarks on their first tour around the country this Fall, so catch 'em in Boston before they are wooed by another city.
Will from Sound As Language says: "The band plays synthy indie rock with an anthemic punk bite. The male/female vocals instantly remind one of The Anniversary but there are also odes to bands like Minus The Bear and Rainer Maria. But the band I can not keep out of my head when listening to Where The Land Meets The Sea is Pretty Girls Make Graves. These rough mixes show an incredible amount of promise and all three songs reside on the band's myspace. Check them out."
They've got two songs for your listening enjoyment on their myspace page.
…and best of all, they'll be dressed as superheroes tomorrow at The Flash Wednesday!!!
========================================================
The Motion Sick Blog – https://blog.mikeandsophia.com/