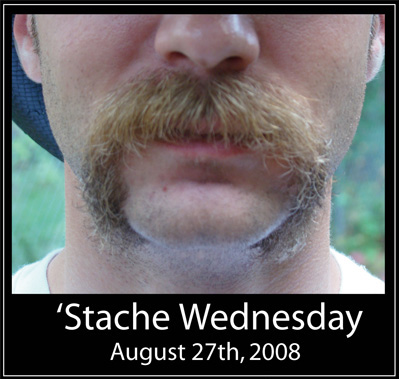 It's 'Stache Wednesday, which means that The Motion Sick will be rocking out at Church (rock club) in Boston and we'll be sporting fuzzy-faces (did we mention FREE!!!).The theme song for the night (and perhaps the silliest of our themes – if you can believe it), "I Grew A Mustache" is available now for listen and download at: http://themotionsick.com/ash/
We must sadly say that this is the 4th and final residency in our Ash Wednesdays series, so we hope that you can join us for the closing ceremonies…
In case you foolishly missed last week's The Flash Wednesday (Superheroes!) Show or the previous week's Arthur Ashe Wednesday or the previous previous week's Splash Wednesday show (or even if you were there), check out some fabulous photographs and video at http://www.themotionsick.com/ash/ to see how much fun we had.
We ran some features on the acts playing with us on our blog: https://blog.mikeandsophia.com/search/label/ash%20wednesday%20band%20feature
08/27/08
Ash Wednesdays Residency @ Church
'Stache Wednesday – Facial Hair Themed
69 Kilmarnock Street
Boston, MA 02215
9 – Brendan Boogie Band
10 – The Motion Sick
11 – Mieka Pauley
FREE!
21+
-xxxxxxxxxxxxxxxxxxxxxxxxxxxxxxxxxxxxxxxxxxxxxxxxxxx-
The Motion Sick Blog – https://blog.mikeandsophia.com/