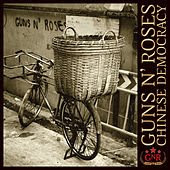 Guns N' Roses' Chinese Democracy, that's what! At last, after 13 years, 14 studios, (most likely) millions of dollars, and certainly countless personnel changes, the world will see the "bands" (what I had assumed to be mythical) 6th record.
Here's a Rolling Stone review of the record, and despite the anticipation, it received 4 stars.
Also, if you've been hankering for a free Dr. Pepper, Axl and Dr. Pepper are keeping their promise!
The song is available for preview on Spin.com here: http://www.spin.com/blog/first-listen-new-guns-n-roses-single-reviewed
I'm curious to hear people's thoughts on the single… comments section?
UPDATE
Michael Marotta from the Boston Herald has some information about the free Dr. Pepper we're all waiting for….
-xxxxxxxxxxxxxxxxxxxxxxxxxxxxxxxxxxxxxxxxxxxxxxxxxxx-
The Motion Sick Blog – http://themotionsickreviews.blogspot.com/