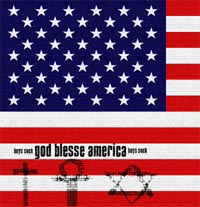 Prior to The Motion Sick, I had played in a number of bands in college including Simian Aides, Shiver U.K., and Binary Test Record. After graduating and moving to Boston for graduate school, I decided I wanted to either continue in the goth rock direction of Binary Test Record or form a silly, twee band modeled after some of my favorites at the time: The Magnetic Fields, Holiday, and Tullycraft. This was the origin of my first Boston project, Boys Suck. It was intended to be sort of catchy, mopey songs that were played loosely, but made up for lack of precision with humor and lyrical twists. I worked with a number of other collaborators while simultaneously playing a lot of solo gigs as well. We self recorded three limited-edition EPs (Short, Pale, and Ugly, Fool's Gold Lining, and God Blesse America) and a bunch of tracks for a variety of homemade collections of music.
We had a fun time, even making 100 unique covers for our second EP. These are long out of print, but several of the songs from this era were rewritten into current songs by The Motion Sick. Short, Pale, and Ugly's "Communication Breakdown" became "Satellite," Fool's Gold Lining's "APD" was reworked into "Walk on Water," and god blesse america's "My Country" remained largely the same in its recording on The Motion Sick's first album, Her Brilliant Fifteen. The band pretty much completely dissolved around 2002. At that point, I began recording demos intended for eventually turning into a full-band project.
Around this time, Terry Rice of Dead Puppy Records, an Internet label asked Sophia Cacciola to help him put together a tribute album of bands covering songs by Boys Suck called Out of Tune. This has been kept available at: . In an attempt to be funny, I also recorded a song for this tribute album that was a cover of Sophia Cacciola's "Jean-Paul Approximately," which later became The Motion Sick's "Jean-Paul."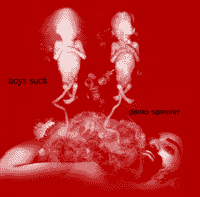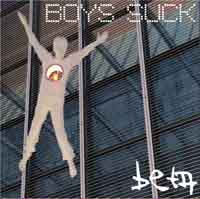 Three versions of demos exist from this post-band era, known as The Pink Demos, Beta, and simply Demo Sampler. The recordings contained on these three demos (which contained much overlap) would be the demos used to select songs for Her Brilliant Fifteen.
Sometime in 2004, I decided that essentially, I was going to stop playing music mostly, but I wanted to make a sort of vanity album of band performances of the songs I had been working on from about '99 to '04. I enlisted Jordan Tishler of Digital Bear Entertainment to take on this project. I brought him 20 songs and told him I wanted to pare it down to 10 and do a full recording.
The 20 tracks I submitted to Jordan are now available for streaming and download at: http://www.gimmesound.com/TheMotionSick-HerBrilliantFifteenDemosandScratchTracks/. They are labeled as "original demos" here. Jordan selected 10 songs. Of the songs on Her Brilliant Fifteen, this original selection did not include "Grace Kelly" or "God Hates Kansas" and did include "The Cyclical Nature of the Ferris Wheel." I insisted on inclusion of those two songs, so that left us at 12 initially. Jordan suggested significant rewrites on many of the songs. "Grace Kelly Falling" was almost completely rewritten to become "Grace Kelly" – most others are relatively similar, but include lyrical rewrites, key changes, removal of parts, and general restructuring. Jordan and I didn't find a way to easily revise "The Cyclical Nature of the Ferris Wheel" so that we were both satisfied with it, so it was scrapped relatively early in preproduction. This left us with the 11 tracks included on Her Brilliant Fifteen.
After lengthy practice and revision time, I got together with David Little, who played drums in Blitzkriegbliss, another band I was in at the time and singer-songwriter extraordinaire Joe Kowan. We rehearsed for about 3 days before the album was to be tracked. We took some of the songs in strange, unforeseen directions, but it was a lot of fun, and I think a lot of great ideas came out of those sessions. Once we began tracking, Jordan expressed concern about Joe's limited experience playing bass (as he was primarily a guitarist – and a great songwriter). So, he ended up being replaced during the tracking sessions by the album's engineer Matthew Girard (The Motion Sick's bassist).
For those of you unfamiliar with recording techniques, we used the common strategy of recording scratch tracks of my guitar and vocals first so that all of the other instruments could be layered on top of those and they could be used as a general song guide. After the other tracking was completed, the vocals and guitar were replaced by real vocal and guitar tracks. The process of recording scratch tracks was doing roughly a single take on each song while playing along to a click. The performances are very uninspired (and poor) and are not really intended for future listening. Still, for your amusement, I have posted the scratch tracks from this session at: http://www.gimmesound.com/TheMotionSick-HerBrilliantFifteenDemosandScratchTracks/. They are labeled here as "scratch guide track demos."
Many musicians were brought into the studio to complete the layers of tracking present on the album. Most everything that was tracked was kept on the album. The only thing I remember totally removing was a spacey guitar on "Pre-Existing Condition" that didn't work for me. Someday, I might dig up those original session mixes so you can hear the original idea.
After some final tweaks and a mastering visit with the great Jeff Lipton of Peerless Mastering, the album was complete!
You can download or stream the whole thing at: http://www.gimmesound.com/TheMotionSick-1/. It is the last 11 songs there, starting with "Satellite."
While the recording was happening, I had spent a lot of time trying to figure out what the heck to do for artwork. I had explored a number of ideas until finally becoming satisfied with extracting a bunch of images from an old medical book from the 1940s. My father agreed to put in a copyright request so that I could obtain the rights to use the images on the artwork. The album was designed and layout was completed – all by the multi-talented Joe Kowan. Then, some bad news arrived. The publisher refused to grant usage rights. I suspect it was because they were not even sure if they owned the rights to the images. So, I was in trouble and had no idea what to do.
Here was the original picture used on the cover: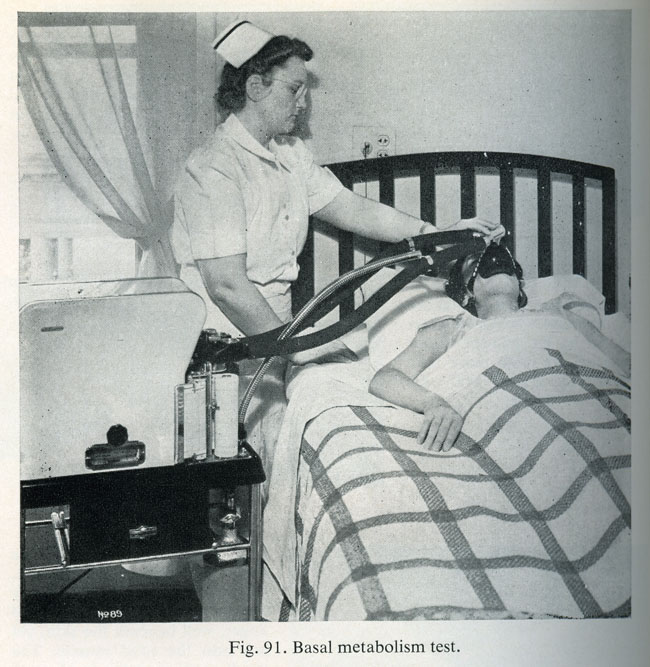 Then, one day, it hit me. I went on eBay, bought a couple of old nurse outfits, a bunch of old medical supplies, some old medicine bottles, a gas mask, and all of the other items shown in the set of images from the medical book. I built the weird respirator machine out of an old sine-wave generator and a vacuum cleaner tube. I enlisted my (girlfriend at the time, now wife) Sophia Cacciola to play the part of the nurse and Bethany Blodgett to take the photos in our living room in Somerville, MA. We worked really hard to recreate the images reasonably well and to generate a final image that felt old, but not tied to a specific era. I posted on The Noise Board telling everyone that I found the photograph and was considering using it for album artwork, but I was trying to figure out when it was taken. I asked the board users to tell me what they thought. They gave a variety of answers: '40s, '50s, '80s trying to recreate '50s, etc. Everyone was fooled. Here is what we chose as the cover: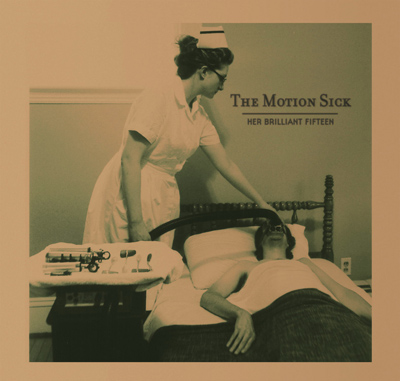 You can see several original cover candidate photos at: http://themotionsick.com/themotionsick/covers/index.html
The original bio photo also came from this session. While we were playing around with composition and shooting with a digital camera before we switched to the film B&W shots, Bethany took a spontaneous shot of Sophia kissing me. Everyone who saw it loved this image so much that it became the bio image for the early days, despite the fact that Sophia was not ever in the band. It even made it into SPIN Magazine! Some of the reviewers at the Taxi music publishing service told me that it was their favorite bio photo that they had ever seen. I think this photo actually may have contributed significantly to the early success of the band.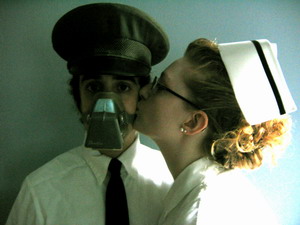 After the album was complete, I did a large-scale mailing to press and radio on my own. I expected to be done with music at this point, but figured, I may as well send off my work to see how people react to it before I wave goodbye. The response surprised me quite a lot! Lots of college radio stations started putting it into heavy rotation. It even hit number 1 a few places! Most overwhelming was that SPIN decided to feature the "band" on their website (and eventually in the magazine). So, it quickly became clear that this wasn't quite yet my last musical breath…
Part 2: The Formation of the Band and the recording of The truth will catch you, just wait… coming soon.