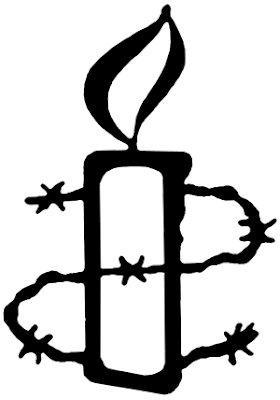 Amnesty International fights to protect basic human rights around the world. They work to ensure that a uniform set of rights exist across the world's wide range of cultures and political systems. They base their activities on a document called the Universal Declaration of Human Rights developed by The United Nations.  From their web site, some of the things they work to do are: Stop violence against women, Defend the rights and dignity of those trapped in poverty, Abolish the death penalty, oppose torture and combat terror with justice, Free prisoners of conscience, Protect the rights of refugees and migrants, and Regulate the global arms trade.
Sounds pretty good, right? Well, now you can download The Motion Sick's music for free (yes, FREE!) while simultaneously earning revenue for Amnesty International.
All you have to do is go to the following links to download our music
Both albums: http://www.gimmesound.com/TheMotionSick-1/
Rarities: http://www.gimmesound.com/TheMotionSick/
Her Brilliant Fifteen Demos and Scratch Tracks (As discussed in A Brief History of The Motion Sick Pt. 1): http://www.gimmesound.com/TheMotionSick-HerBrilliantFifteenDemosandScratchTracks/
When you go download these (not just stream them, you actually have to press that down arrow to download), the ad revenue is divided bewteen Gimmesound, The Motion Sick, and Amnesty International.  A good deal for everyone!
—
On another note, we've been asked to participate in a special promotion with Reverbnation and Microsoft.  Basically, we were asked for an exclusive track that they could post in conjunction with a branded web site.  So, head on over and download an exclusive version of "Winged Bicycle" (Live on WMBR) at https://myspace.com/windows?homepage=themotionsick
This isn't our first handshake with the computer giants.  You might also remember that they aksed us way back in the day if they could work with us on ad that featured in SPIN Magazine and on a special web site: http://themotionsick.com/themotionsick/talk-win.html
Hypebot has a writeup on this interesting campaign at: https://www.hypebot.com/hypebot/2009/06/reverbnation-teams-with-microsoft-windows-for-massive-song-giveaway.html