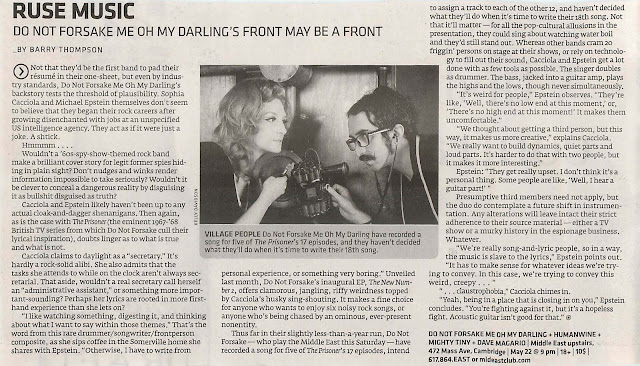 Pick up a copy of The Boston Phoenix this week to check out our interview with Barry Thompson (or click the link to read it online)! We had a really fun (if evasive) interview with Barry in our kitchen – he even taped us doing an impromptu stripped-down version of our Leonard Cohen cover, "First We Take Manhattan."
Here's that video (watch to the end for some ridiculousness from Mike and I):

and a quote from the article:
"Unveiled last month, Do Not Forsake's inaugural EP, The New Number 2, offers clamorous, jangling, riffy weirdness topped by Cacciola's husky sing-shouting. It makes a fine choice for anyone who wants to enjoy six noisy rock songs, or anyone who's being chased by an ominous, ever-present nonentity."
We are playing Saturday, May 22 at The Middle East Upstairs! This is a big one and we'd love to see you there! It's going to be amazingly eclectic night of off-kilter rock 'n' roll.
HUMANWINE presents: Synonym – Facebook Event
HUMANWINE


DNFMOMD


Mighty Tiny
Dave Magario


show starts at 8:45 sharp with Dave, DNFMOMD play at 10.