The very last day of our tour blog…sniff sniff.
Tons of tour photos on Flickr at and on Facebook at http://www.facebook.com/album.php?aid=2384673&id=1817487, http://www.facebook.com/#!/album.php?aid=2385257&id=1817487, http://www.facebook.com/album.php?aid=2384885&id=1817487, and http://www.facebook.com/#!/album.php?aid=2386913&id=1817487
Sophia says: Finally! No hotel check outs or 6 hour drives! We got to sleep in until 12! We leisurely started off the day with some bagels I picked up at Wegman's on the way home from Rochester the night before and my Mom made some of her famous home fries.
We promised Kelly and Agent Bishop that we would take them to Niagara Falls as they had both never been there – none of us brought our passports so we were forced to visit the American side – where they hit you with sticks (or so Mike claims). Mike adds: I always hear how the American side is the bad side and Kelly and Agent Bishop wanted me to justify that claim, so I had to think fast and made up the idea that although the view is okay, you are pelted with rocks and hit with sticks as you look upon the falls. This joke continued throughout the day.
It didn't stop Kelly, Agent Bishop, and Hello "Fernando" Kitty from going for a swim.
We found a giant pile of Niagara Falls flip-flops, once again reminding us that we need to start a blog showing sites of alien abduction (AKA abandoned shoes).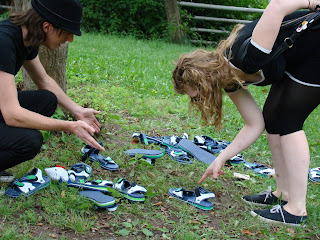 Agent Bishop hunted some Juggalos (a juggalo is an Insane Clown Posse fan – we had JUST listened to their song Miracles in the car – which does mention Niagara Falls to tie it all back in together – maybe the Juggalos were on some sort of Juggalo tour and their next stop is the Pyramids?)
They came back from this excursion looking very, very guilty.
Mike tried to puke out the falls and Kelly tried to hold it in her hands and I picked up some signals in the Emergency Call Box. We got a taste of our own medicine when a guy totally photobombed us on a bridge. It was hilarious. On a quest for an arcade we wandered into a Casino where Agent Bishop promptly lost some money and I promptly made $15.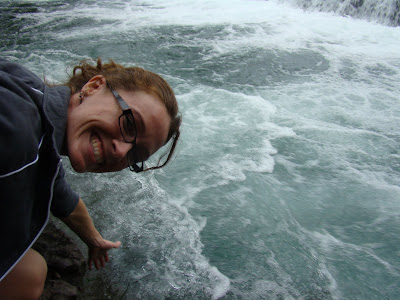 How many young, attractive nuns does it take to go to Niagara Falls? None, get it, "none." Okay, actually, there was this one.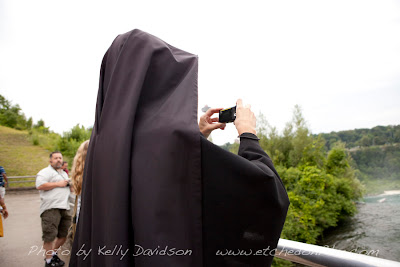 Not only was this guy with his wife, he gave her a kiss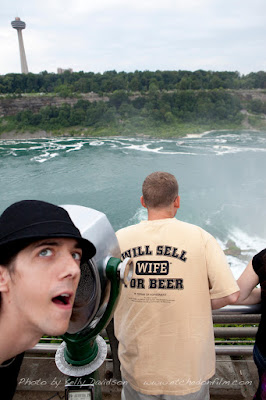 There were a number of terrible signs including a product deemed the "ice cream of the future" (um, it's already here though…)
I packed everyone up and drove on to the last venue of our tour! Merge is a really cute restaurant serving vegan/veg/raw/gluten-free food as well as some free-range meats. We got there early enough to try a bunch of items on their menu. Mike and I shared the "Chicago meets Buffalo" seitan wings, the thai rolls, and the BBQ daiya pizza – it was all really delicious -especially the wings. The vibe of the place was more folky and we didn't want to scare the diners so we played a quieter version of our set to start – so me on brushes/snare/floor tom (no kick) and Mike really turned down. About half-way through our set the workers and a few customers asked us to turn up! So we busted out the rest of our gear and played the rest of our set loud.
Everyone who worked at Merge were super-awesome – they even "tipped" us with a bag of vegan! cookies – that also had two little plastic bulls in it. They even let us screw around at the end of the night – Kelly hopped on bass and played a few songs with me and Kelly and Bishop did their best impressions of Mike and I on drums and bass. All in all a lovely end to our tour.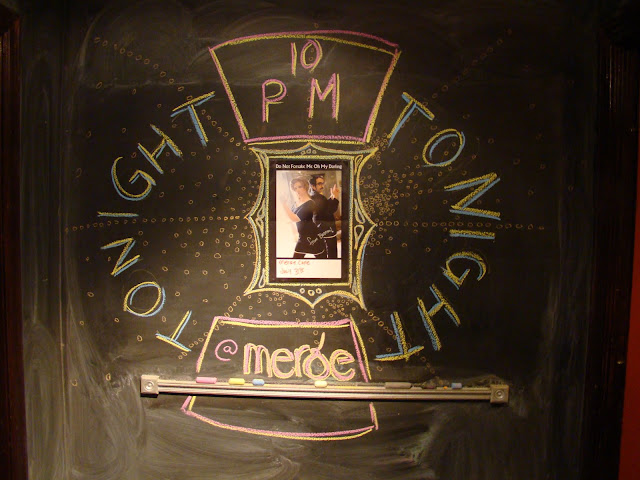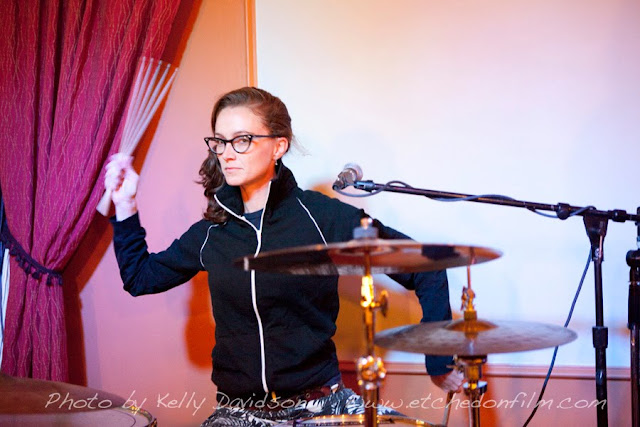 Sunday we got up early – my Mom had made us blueberry pie the night before so we ate that for breakfast and she also made a pizza dough (as she saw I had bought some daiya and soy pepperoni and put it in the fridge) so we ate some of that and took some of it to go for our 6 hour journey home. We listened to Myq Kaplan's comedy CD "Vegan Mind Meld" on the Mass Pike and we were dying laughing – also Mike's bladder nearly exploded in Natick (enjoy the video of his suffering here). That's about all that's memorable of our ride home. It was certainly bittersweet to drop everyone off. We spent 9 nights together, drove just under 3,000 miles and have more inside jokes than someone with a stick could shake a stick at.
Kelly also drew this visual summary of the entire tour…