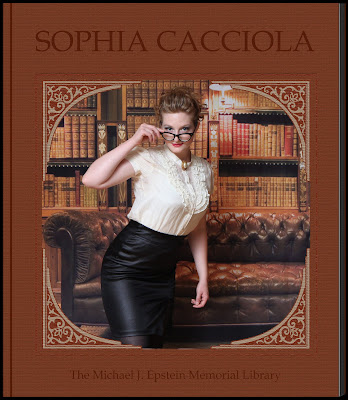 Sophia Cacciola
Beatbinder, Acquisitions, Drums
Sophia was hatched from a dinosaur egg at Natural Bridge, VA. She is also the frontwoman/drummer for the no-wave art-rock Prisoner-inspired band, Do Not Forsake Me Oh My Darling.
Favorite Author: Leo Tolstoy. Anna Karenina is the kind of novel that burrows deep into your psyche and changes your perspective – in a previous project (blitzkriegbliss) I had a song inspired by it called, Vronsky. Tolstoy was a vegetarian, he hated Shakespeare, he had a great beard, and he was a mad genius that pretty much laid the groundwork for non-violent protest.
Favorite Book: Cat's Cradle? Catch-22? Dune? who knows…
Favorite Movie Based on a Book: Fight Club is the only movie that I've seen where they didn't have to change a single plot element, or even most of the dialogue to adapt it for the screen – so there was no disappointment in what they were able to do with the movie. In fact, the movie is better than the book – and this is the only movie I can think of for which this is the case.
Favorite Song Based on a Book: Velvet Underground's "Venus in Furs" – it's a spot on interpretation of the book set up from the very first line of "Shiny, shiny, shiny boots of leather."
Bands with songs about authors: I really love this obscure new-wave band, Blue Clocks Green, – in 1988 they released a 7-inch called "Hemingway" that is amazing: http://www.youtube.com/watch?v=eTq38ND-K28
I also love the Modest Mouse song, "Bukowski" – "Woke up this morning and it seemed to me, that every night turns out to be a little bit more like Bukowski. And yeah, I know he's a pretty good read. But God who'd wanna be? God who'd wanna be such an asshole?"
Favorite Band Named after a Book: Joy Division are named after a particularly disturbing phrase/concept from the book House of Dolls – they managed to have shock value that had to be researched – which only adds to their legend.
(Find Sophia at Do Not Forsake Me Oh My Darling and on Facebook)
Photo by Kelly Davidson, Etched on Film