'Round October I had decided that DNFMOMD would take a break from shows until 2011 – after all, we're working fairly constantly on 2 music videos (here and here) and will be recording another EP at the end of December and the other band that both Michael and I are in, The Michael J. Epstein Memorial Library, is scrambling to finish tracking its debut CD by the end of December as well. Shows seemed like the easiest ball to drop for a few months while we finish this all up! That was, until Rob Potylo came knocking and offered for us to open up his CD release at The Middle East Downstairs on Dec. 2. Rob has a lot to celebrate – in addition to his new CD; his Boston-arts based sitcom, Quiet Desperation (which Mike and I have appeared in briefly) is making the big jump from Youtube to cable this month! The show is premiering on Christmas Eve – read about it at .
On to the show – so many of my favorite creative people were in attendance it was awesome to get a minute to catch up with everyone!
Mehran MC'd the entire event and his admonishments to drink and join the A-yay had me in stitches right before we started to play.
I thoroughly enjoyed the opportunity to play on the downstairs stage once again. In our second song – Mike DESTROYED his bass and broke 2 bass strings! Practically unheard of! Luckily, Seager of Mellow Bravo was kind enough to loan us his bass to finish our set without further mishap!
Here is video of the string-incident: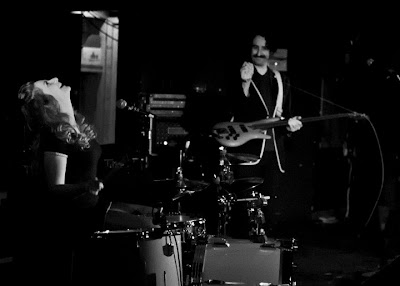 Photo of my reaction to Mike's broken strings captured by Rachel Leah Blumenthal
We even played a new song (titled, if you can believe it, Do Not Forsake Me Oh My Darling) which you can watch here:

It will also be on our upcoming EP (to be released early 2011).
Mellow Bravo took the stage next and totally slayed. Video evidence:

Then it was just Rob and his electric-guitar for his set which teetered between deep introspectiveness and downright comedic (including lines about working at Shaws and selling his song to Batman 3). Mike has been singing She-Ra to me ever since. We got 8 videos of Rob – all in a handy playlist here:

Then Planetoid, showed our puny human eardrums who was boss – they played a sizzlingly tight set into the wee hours.