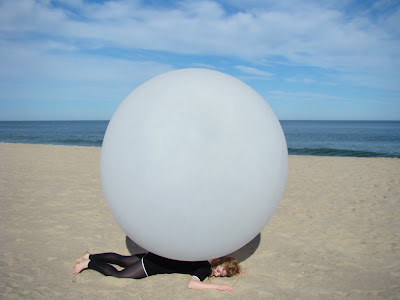 Final video info / screen shot comparisons / video itself (6/9) here!!!
3/13/11 Update (last 3 days of shooting and preliminary screening info here!)
Around this time last year, Mike and I approached Theodore Cormey of Lost Jockey Productions about producing a video for us. We had seen his most recent work with Sarah RabDAU and Self-Employed Assassins and were really impressed. We met at Diesel and laid out a vision of shot-by-shot recreation of the opening squence of the cult late-'60s ('67 and '68 to be exact) TV Show, The Prisoner. Since that fateful evening it's been a whirl-wind of logistical emails, location scouting, and prop hunting. Every step of the way, the question has been, how much of a compromise are we willing to make, after all we're recreating something that is 40 years old and British; and for Mike and I the answer all along has been 'let's get it as close as possible'! I can say, that after 8 days of shooting, we are very, very close to a near-exact recreation.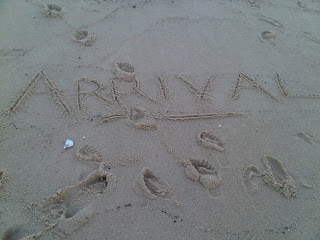 Photo by Mike Bishop
While we don't have any final footage, we do have an extensive behind-the-scenes look at the first 8 days of shooting. We've got about 7 million photos coming soon as well, but first, we must sort, so for the moment, we present you…video:
The best way to recount the events leading up to our video, is to acknowledge the people who have helped so far. Something of this magnitude and insanity takes a lot of people to pull off. We were really lucky in having people around us that were in ever-good humor despite the stresses and long hours. When a project like this ends, there are so many people that become invisible to the viewer. No one thinks about the art director each time they watch the video. So, we'd like to remind you that the only way something like this can ever get done is through the tremendous contributions of a large cast of people!
Ted Cormey – our intrepid director – he's spent countless hours (literally months) scouting out perfect locations and coordinating people and vehicles and worst of all, putting up with Mike and I! We are tyrants when it comes to our vision, but Ted keeps rolling with the punches.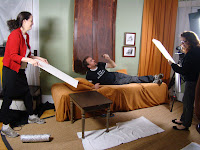 Stu Vose – Stu is our cameraman – he's been a wind of calm throughout the shoot and he always finds the tense moments to say that everything is going to be fine and prove it with the playback of his amazing camera work.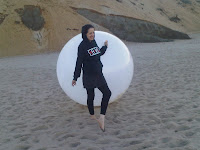 Juliet Schneider (Iridium Productions) – Juliet has an incredible eye for detail and finding the perfect props – and what she can't find she creates from balsa wood and foam-core and pure magic!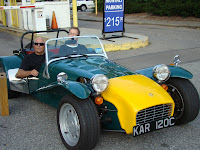 Dana Freeman – finding the exact replica of the Prisoner car (the Caterham recreation of the Lotus 7) was perhaps the biggest stroke of luck that we've had so far. It's the exact car and paint job and one of only about 40 in the world. It's owner, Dana, and I struck up a quick friendship and he so graciously allowed us to use his vehicle and drive dangerously through downtown Boston during tourist season.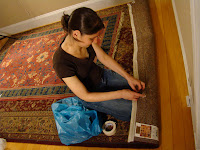 Sasha Goldberg – Sasha tirelessly worked the set running around from technical details to art department as needed -one minute she's was carpet specialist, the next she's manning the monitor in a dark, cramped basement, and the next whipping up some eggs for the crew.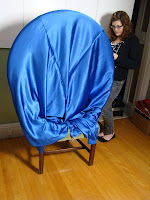 Nicole McConvery – Nicole worked with Juliet in the Art Department – she made incredible faux-furniture, modern sculptures and many other integral pieces of our set, she was also often the last to leave right before us – helping out in whatever way she could find until the very last moment.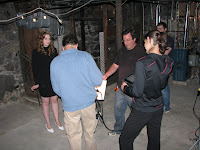 Photo by Ted Cormey
Chris Engles – worked the lights on Saturday for Stu – he also took some incredible photos.
Along with Chris, Anthony Jarvis also assisted Stu on Saturday – he was great for cutting through tension with some well-timed, that's-what-she-said and choicer moments.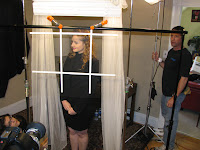 Photo by Ted Cormey
Jim Turner – on Saturday it quickly became apparent that our shoot schedule was just too ambitious and we'd need an extra day of shooting – Ted and Stu took to their phones and rounded Jim up on 12 hour notice to come and assist Stu on Saturday – I think we introduced him to tofu and raspberry heifeveisen – but he seemed to take it all in with good humor.
Additionally, David Rodal made many, many trips moving props to and from the set, and he even drilled the keyhole of our smoke-door! Also, Katya Popova painted some of the paintings that fleshed out our office and apartment scenes.
Finally, many, many thanks to our friends who volunteered to do odd-jobs around the set and generally kept me calm and amused:
Jeffrey McDonald – was at the set at the ungodly hour of 7:30AM on Saturday – he gave hands to the art department and did manly things like build fake windows and hold up prop tables while things were being smashed right above his face!
Erica Truncale and her Jeep became quickly indispensable, she'd show up one minute and we'd send her out the next on the errand of the moment (whether it be buying fabric, picking up generator rentals, moving desks, or grabbing us lunch) she was willing to do it all. (Photo of Erica delivering life-sustaining nutrition at: http://www.tabblo.com/studio/stories/view_super/1806580/i39255566/ )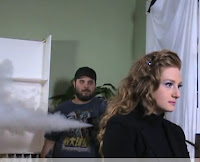 Richard Bouchard stepped in on Sunday and realized his life goals of becoming a blind (like Venetian, not can't see) enthusiast and a master smoke-monster summoner.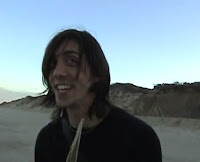 Mike Bishop got to get back in the van with us (he spent 10 days on tour with us over the Summer) for the 2 hour trek to the Cape for our perfect beach location. He was marvelous as our Rover-wrangler and fisherman-repellent.
Marianne Cacciola – Marianne left town and let us invade her space and move all of her furniture around – a huge help on our two-day indoor shoot. I'm still scared to show her the photos of what we did to her place!
That's it for now! I feel so overwhelmed by how everyone came together to make this all happen, I'm so honored to have such amazing friends. We truly have a great team. Coming up, we have one, possibly two days of shooting left in November and then we edit this beast!