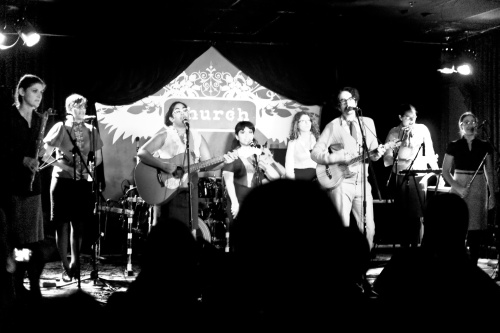 Photo by Joel Edinberg
As we begin our studio journey to document the first 9 volumes of the MJEML song collection, I thought it most appropriate to share with you the songbook for your perusal. These notes contain the main chord progressions as played on the ukulele/acoustic guitar as well (including capoed forms).
You can see some video of our early performances here and here and can listen to (and download MP3s of) a 3-person radio session here.
Michael J. Epstein Memorial Library Songbook October 2010 Edition
1. Holy Ghost
2. 4th grade book report blues
3. Civil Engineering Blues
4. Emily
5. Stranger
6. Every Time I Visit You It Rains
7. Amylee
8. Lymph Nodes
9. Small Crack
1. Holy Ghost
TIME SIGNATURE: 2/4
KEY: G
Intro: G C9 G D C G D x 2
G C9 G
I'll Scrub away the caked on empathy
D C G D
You've got a natural defense against the buildup of anything
the war is over everyone agrees
you don't weep for nothing and you won't lose any sleep
c
and to everyone who caught your act
G
and everyone who's got your back
C D G
to everyone who tries to dance too close
you say leave some room for the holy ghost
but you push away the angels and the host
because Heaven is the place you fear the most
so you say leave some room for the holy ghost
close your eyes, just count to five, and breathe
all the shivering and shaking, it don't constitute disease
the war is over everyone agrees
you don't weep for nothing and you won't lose any sleep
just an entropic event
not God given, not God sent
chorus
solo
Like the calm before the storm
like the right before the wrong
chorus
—————————–
2. 4th Grade Book Report Blues
TIME SIGNATURE: 6/8
KEY: E
Notes: (Capo 2, chords listed are real chords – parentheses for capoed forms)
E(D) A(G)
I was bored, I was lonely
so I read you to the end
F#m(Em) A(G) E(D) A(G)
but I would not recommend you to a friend
you were the right reading level
just the right twists and bends
still I would not recommend you to a friend
E(D) A(G)
You left me so empty
in the chapter books room
you talked about menstruation more than Judy Blume
The pictures were gloomy, but I stuck around til the end
F#m(Em) A(G) E(D) A(G)
and I would not recommend you to a friend
no I would not recommend you to a friend
(instrumental section like a verse)
F#m(Em) A(G)
no I would not recommend you
F#m(Em) A(G)
would not defend you
F#m(Em) A(G) E(D) A(G)
when the boys start throwing rocks again
F#m(Em) A(G) E(D) A(G)
no I would not recommend you to a friend
I would not recommend you to a friend
no I would not recommend you to a friend
———————
3. Civil Engineering Blues
TIME SIGNATURE: 4/4
KEY: G
G
the city was built it was perfectly laid out
D
in a gridlike form, none too close to his neighbor
but problems evolve, no they're not created
put disclaimers on the news
There's a man on the street, God told him to wait there
for a message to be sent in a bottle
but the bottles he sees are all broken, discarded
by boys stumbling by late at night
C D G C D G
no they won't talk at all they go la la la
and the boys they pass by they won't give him a dollar
cause they know that he'll use it for mouthwash or sterno
besides they've got nothing left in their wallets
they just spent all their money on beer
no they won't talk at all they go la la la
and the leaders of nations stand tall at their pulpits
complain about how they're all victims of violence
and nothing they do will solve any of this
so they may as well just smile
and they may talk a lot, but it's la la la
C D G C D G
You're a proselytizing, prophylactic mess
and the girl that loves you is circumspect
with her bloodshot eyes and her tearstained dress
2x
no you don't talk at all, you go la la la 2x
G
end glock run
—————–
4. Oh Emily
TIME SIGNATURE: 4/4
KEY: G
D G
Oh oh oh Emily
You wear a shroud of misery
Not a beam of sympathy
Can make its way inside
Oh oh oh Emily
Please accept this elegy
My last attempt at chivalry
Afforded little time
C G C G C G C D
and those days went by when the birds did cry
songs without joy or shame
and beauty lives in coincidence
scrawled out on scraps of page
Oh oh oh Emily
You will go down in infamy
A symbol of failed artistry
An ideal purist frame
Oh oh oh Emily
A victim of your vanity
Reflecting back monstrosity
a small price to pay
and those days went by when the birds did cry
songs without joy or shame
and beauty lives in coincidence
scrawled out on scraps of page
(verselike instrumental break – flute/viola featured continuing ideas from days went by section)
oh oh oh Emily x3
You did it all in vain
—————————————————–
5. Stranger
TIME SIGNATURE: 4/4
KEY: G
G Em
We were so proud for using such big words
We were born on the right half of the Earth
and as it circles like the vultures in the sky
I grow my cover because I've got something to hide
C D G
Sometimes I find it strange that I'm alive
and even stranger stranger that I'll die
Sometimes we go to bed without any food
We always sleep without a hint of the truth
and I will scream until I hit your notes of praise
Keep on crawling until I finally escape
Sometimes I find it strange that I'm alive
and even stranger stranger that I'll die
(instrumental section)
(minimal instrumentation in last verse)
Sometimes I whisper just to make you feel alone
Sometimes I run away for the rush of coming home
Sometimes they ask me why I let you slip away
When they can't think of nothing, nothing else to say
Sometimes I find it strange that I'm alive
and even stranger stranger that I'll die
and even stranger stranger that I'll die (stop on G)
——————————————————————————
6. Every Time I Visit You it Rains
TIME SIGNATURE: 2/4
KEY: G
GCD
Every time I visit you it rains
GCDC
it's not as if I bring the clouds on board my train
GCDC
it seems we're just the victims of that electrical display
GCG
because every time I visit you it rains
every time I call you you're away
the ringing on your telephone buzzes fur elise all day
it must be how it stimulates that cellular array
because every time I call you you're away
C D G C
Let it rain, let it rain, let the sun shed all its pain
C D G G
let it rain let it rain let it rain
Let it rain, let it rain, until the moonlight's washed away
let it rain let it rain let it rain
every club we go to is passe
dancing to the horrors they call music that they play
avoiding all the people just trying to get laid
but every club we go to is passe
Let it rain, let it rain, let the sun shed all its pain
let it rain let it rain let it rain
Let it rain, let it rain, until the moonlight's washed away
let it rain let it rain let it rain
(rain breakdown)
Let it rain, let it rain, let the sun shed all its pain
let it rain let it rain let it rain
Let it rain, let it rain, until the moonlight's washed away
even if we're trapped here in the rain
even if we're trapped here in clichés
——————————
7. Amylee
TIME SIGNATURE: 4/4
KEY: F#m
(Capo 2 – capoed forms in parentheses below)
F#m (Em) D (C)
Galaxies are born and galaxies collide
but gravity just took me for a ride
F#m (Em) D(C) E( D) A(G)
and I know I could shine brighter than a billion solar bursts
F#m(Em) D(C) A(G)
but I just called to save the universe
yeah I just called to save the universe
and one day I was born and everything collides
and gravity just took me for a ride
and sometimes I feel darker than a billion black hole bursts
but I just called to save the universe
yeah I just called to save the universe
(instrumental section)
I cut off all my hair didn't know what else to remove
but gravity tried to pull me right from you
and I fought a billion comets just to end this ancient curse
and I thought i could save the universe
I've got to try to save the universe
yeah I knew I could save the universe
so I just called to save the universe
———————————————–
8. Lymph Nodes
TIME SIGNATURE: 2/4
KEY: E
(Capo4 – forms in parentheses)
E (C) C#m (Am)
My lymph nodes are swollen
A (F) B(G)
my tonsils are bleeding
E(C) B(G) E(C)
from screaming at my reflection
I'm looking for something
but it's not what I'm seeing
just a world in reverse direction
C#m(Am) E (C)
but I'm not singing for your sympathy
A(F) E(C)
I'm not shivering to stay warm
E(C) B(G) E(C)
I'm just a victim of another resource action
I'll lose my voice a million times
if it will stop a war
and the list of victims won't grow any longer
(solo)
(last line) and all that we have left now is screaming (everyone sings this, but it favors more unison)
my lymph nodes keep on swelling up
and someday will be cancer
not far from psychosomatic reaction
I'm looking for something
but it's not what I'm seeing
just a world in reverse direction
C#m(Am) E (C)
but I'm not singing for your sympathy
A(F) E(C)
I'm not shivering to stay warm
E(C) B(G) E(C)
I'm just a victim of another resource action
I'll lose my voice a million times
if it will stop a war
and the list of victims won't grow any longer
and all that we have left now is screaming
——————————————————————————
9. Small Crack
TIME SIGNATURE: 4/4
KEY: Bb
(Capo 3 – forms in parentheses)
A# (G) D# (Cadd9)
25 to life for a crime I didn't commit
stonewalls and train whistles out in the wind
one night I dreamt of a calling from the world outside
when I woke up in the morning, there was a glimmering light
A#(G) D#(C) F(D) D#(C)
There's a small crack, yeah its' true but it's gonna be a while before we make it through
There's a small crack, yeah it's true but it's gonna be a while before we break on through
so I start singing every night up to the sky before bed
praying to the lord that no one hears what I said
with the first stone loose, and the second now on its way
Just might see the open sky someday, cause…
There's a small crack, yeah its' true but it's gonna be a while before we make it through
There's a small crack, yeah it's true but it's gonna be a while before we break on through
It broke right open like the red sea parting way
Stuck my head out, heard the birds, saw a cloud's smiling face
Not more than a mile, the sky opened up as the siren's blazed
wasn't long before the dogs dug their teeth right into my leg
There's a small crack, yeah its' true but it's gonna be a while before we make it through
There's a small crack, yeah it's true but it's gonna be a while before we break on through
25 to life turned to hanging by the end of the day
as the knot got tighter, the sky got brighter anyway
The clouds cracked open and a light shined down on me
as I floated up to touch it, I couldn't stop singing this praise
There's a small crack, yeah its' true but it's gonna be a while before we make it through
There's a small crack, yeah it's true but it's gonna be a while before we break on through