Let me just start with, a HUGE thanks to: Agent Mike Bishop, Leesa Coyne, Veronica Dale, Kelly Davidson, Sophia Cacciola, Jen Johnson, Tad Mckitterick, Kate Murdoch, J-Krafty, Sarah RabDAU, Matt Graber, Peter Moore, Eric Donohue, MacKenzie Outlund, Stu Dietz, Aaron Rosenthal, Mark Desrosiers, and Brandon Erdos!
Last night, at Cafe 939, The Girls of The Motion Sick chanted, "they lucked out and scored us awesome chicks" in their lone original song (see song #6 in the playlist below), an eponymous number giving a sort of explanation of the project and dedicating a set of verses in which each of us fellows in The Motion Sick got a bit of a roasting.
Indeed we did luck out as our female counterparts of sorts gave us a very kind sendoff by learning and performing a set of our songs. They even roped the other acts on the bill, an evening organized and promoted by Agent Mike Bishop, into doing a song each and got several notable special guests in on the performance. It was really very flattering that they took the immense quantity of time and energy to let us have fun with our songs one more time before we are off on an indefinite break. The evening was also the photo opening of a photo exhibit by Kelly Davidson, rock photographer to the stars and official tour photographer for Do Not Forsake Me Oh My Darling.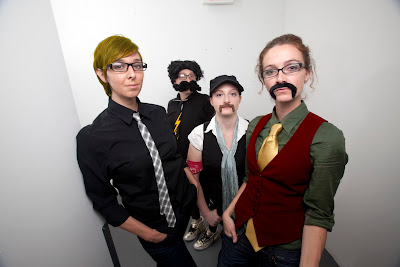 Photo by Kelly Davidson – Based on this photo
From Left to Right: Veronica Dale (The Future Everybody) as Matthew Girard, Leesa Coyne (Naked on Roller Skates) as Michael J. Epstein, Sophia Cacciola (Do Not Forsake Me Oh My Darling) as Travis Richter, Kelly Davidson (Naked on Roller Skates) as Patrick Mussari