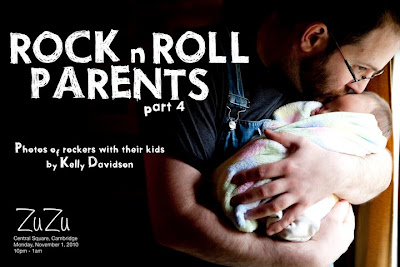 The fourth installment of photographer extraordinaire Kelly Davidson's Rock 'n' Roll Parents series, which began in 2005, features The Motion Sick's very own Patrick Mussari with his daughter Charlotte (seen at left on the flyer). The photo exhibit runs for all of November at ZuZu Bar! in Central Square. Some more info from Kelly in this interview with the Dig. (For those keeping score, Kelly also performed as Patrick in The Girls of The Motion Sick.)
Opening night of the exhibit is this Monday (the 1st) and Kelly, as well as many of the photographed will be in attendance (I am guessing the kids won't mostly be there, but hey, who knows?!??!). The series also features members of bands This Blue Heaven, Scarce, Sleepyhead, Eddie Japan, Thee Hydrogen Terrors, Rick Berlin Band, The Invisible Rays, and the solo artists Kris Delmhorst, Jeff Foucault, and Jeffrey Simmons.
The details in summary:
Rock 'N' Roll Parents Exhibit Opening
11/1/10
ZuZu Bar!
474 Massachusetts Avenue
Cambridge, MA
10 PM – 1 AM
Musical entertainment will be provided by
Coo & Howl