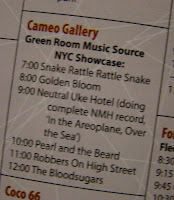 It was exciting to head down to NY for a 6-hour visit to play the Green Room Music Source showcase at CMJ this year with Neutral Uke Hotel. I took a casual train ride down and got to listen to a bunch of fascinating episodes of This American Life (it's often hard for me to find an hour-long block to just listen and I hate to do any interrupted listening). I arrived in NY and took the subway over to the venue (Cameo Gallery). The stage was in a secret room hidden away in the back of the bar/restaurant. It was a small space, but had this crazy thing hanging from the ceiling. It was kind of a bunch of strings that touched the heads of the artists on stage. Pretty uncomfortable and awesome! Some kind summary words were written by Playground Boston, The Whiskey Dregs, and Green Light Go!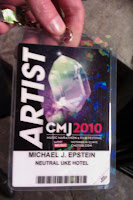 Before we played the showcase, we had a great time recording a live session on the street for Modern Mystery Blog! It was a whole lot of fun and we did a Neutral Uke Hotel song as well as a Golden Bloom song. I always love to share a nice rendition of Golden Bloom's "Doomsday Devices," a song covered by The Motion Sick for our split 7″ with Golden Bloom.
Modern Mystery blog also took a whole boatload of photos from the showcase, which you can see on Flickr.
Update: The awesome videos from the Modern Mystery Session are here! We played on the street to shoppers, bicyclists, and one cute dog.
To add to the Cameo Gallery experience, click image below for some more green room marker-drawn genitals to go with the rest of my collection from our tour this Summer: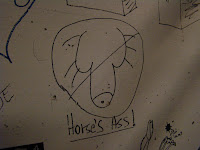 Now that we've gotten that taken care of, here's some video of our showcase. Unfortunately, we had to head back to Boston that night, so I really didn't get to see all that much. I caught Snake Rattle Rattle Snake, Golden Bloom (of course featuring 3 members of Neutral Uke Hotel), and a little of Pearl and the Beard before heading off. The color video below is courtesy of the Limewire Blog. They wrote a little piece on the show and included these videos. The black and white video was the best I could pull off with my camera. Thanks to Lauren Roberts for recording the NUH set!
Photos via melophobe
Videos
Neutral Uke Hotel
(First video from Limewire Blog)

Video from my camera taken by Lauren Roberts

Pearl and the Beard (embedded video from Limewire blog)

Snake Rattle Rattle Snake