Show recap and videos now at: http://blog.michaeljepstein.com/2010/10/girls-of-motion-sick-sweetest-thing.html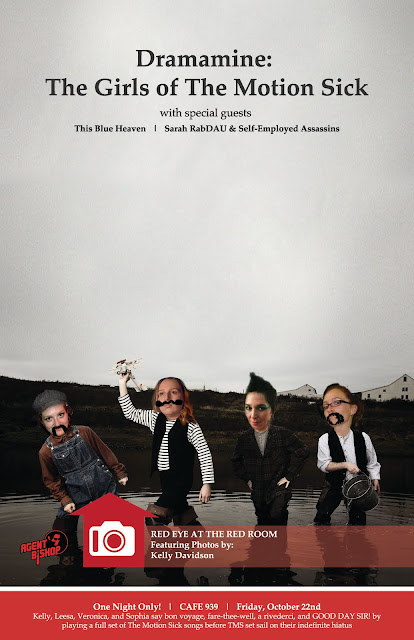 Dramamine: The Girls of The Motion Sick On October 22nd – the wives, girlfriends, and close female friends of The Motion Sick will be performing a farewell tribute to the band (The Motion Sick is on indefinite hiatus). The Motion Sick have long been a staple on the Boston rock scene and the women affiliated with each of the band members have joined forces to lampoon, roast, and just plain make fun of the boys of The Motion Sick.
The Motion Sick is pretty good at playing smart indie rock, but arguably even better at selecting female company. Thus, the Girls of The Motion Sick is packed with talent from local rock bands including: Leesa Coyne and Kelly Davidson (Naked On Roller Skates) , Sophia Cacciola (Do Not Forsake Me Oh My Darling, The Michael J. Epstein Memorial Library), and Veronica Dale (The Future Everybody).
Together, they will perform a full set of The Motion Sick's songs in their own style and by their own rules. The night will also feature special guests helping them out along the way.
Poster: [PDF High Resolution] [JPG High Resolution]Link: http://bit.ly/girlsofTMS
Cafe 939
939 Boylston St.
Boston, MA
"Red Eye at The Red Room" Presented by Agent Bishop also includes a photography opening of the work of Kelly Davidson.
This show is ALL AGES!
$10 PRESALE, $12 DOORS
Dramamine: The Girls of The Motion Sick – Kelly, Leesa, Veronica, and Sophia say bon voyage, fare-thee-well, a rivederci, and GOOD DAY SIR! by playing a full set of The Motion Sick songs before TMS set sail on their indefinite hiatus
Facebook Event
Photo by Kelly Davidson – https://www.kellydavidsonstudio.com/