2011 was a really amazing year for us on all musical fronts; we released more music and videos than ever before, and we've put ourselves in a position for 2012 that should allow us to be in a constant state of creation/release. This is naturally very exciting for us.
First, here are all of the 2011 "best of the year" lists we made:
DNFMOMD: TIME: #6 Most Creative Video, Ryan's Smashing Life Best Artists, To Eleven #10 Best Albums, Joe Renken has a Blog- #5 and #4 Best Show, Boston Band Crush Al Polk Top 30 Songs, Eric Roberts (GM of WMWM) – #2 best live bands, TJ's Top Albums #3, Crappy Indie Music Blog Best EPs, Joel Simches and T Max's Top 10 Lists in the Noise
MJEML:  Music.Defined. #1 Show of the year (with Neutral Uke Hotel/Golden Bloom), Allston Pudding – Boston's finest, To Eleven #3 Best Albums, Music.Defined. #22 Top Tracks, Boston Band Crush Al Polk Top 30 Songs, TooMuchRock #6 Best Albums, TooMuchRock #25 Best Song, 1001 Covers #13 Best Cover, Cover Me #49 Best Cover, Green Light Go Best Albums of 2011 (Janelle, Kelly), Indie Rock Cafe Best Songs, A Plague of Angels Best Songs of 2011, MassMic.org 2011 Album Picks, Francis DiMenno and T Max's Top 10 Lists in the Noise, #3 on Top 10 Albums by Paul (SongGuy)

Darling Pet Munkee: The B's Knees Radio Best Songs,  Boston Band Crush Al Polk Top 30 Songs

MJE and SC: Boston Band Crush Sexiest Four-Eyed Rockers #10 MJE #2 SC
Let's break 2011 down by band:

Do Not Forsake Me Oh My Darling: 2011 was a huge year for DNFMOMD. In April, we were semi-finalists in the legendary Rock 'n' Roll Rumble. In May, we released our second EP, Questions Are a Burden to Others, at The Middle East Downstairs. After a sneak preview in March at BUFF and a full world premiere in April at Portmeiricon, in June, we publicly released our music video for "Episode 1: Arrival" – a shot-for-shot remake of the opening titles to the cult '60s TV Show The Prisoner – that video has received tremendous response – including a premiere at Magnet, and coverage in The Daily Wh.at, Topless Robot, MTV Latin America, and most recently received notice from TIME Magazine – which named it No. 6 in Top Ten Creative Videos of 2011! The video is closing in on 60,000 combined views (of the original cut and the cut with the box of The Prisoner running in the corner at the same time). Full press summary here.
In July, we released a music video for our cover of Leonard Cohen's "First We Take Manhattan," which has over 15K views! In July, we also released a cover of "Sweet Dreams (Are Made of This)" with our Manhattan director, Glenn di Benedetto (also of the band Parlour Bells). In August, we played a show for Sophia's birthday where we were joined for the first time on stage by friends as the VILLAGE BAND- we had viola from Susannah Plaster (of MJEML), TeeJay/Meff/JoJo/Edrie from The ARmy of BRoken TOys on drums/mandolin/ukulele/and various wonders, J. Krafty on saw, Linnea Herzog on tenor recorder, and Harry Dulaney on trombone. We're still editing sound/video from that show together – but it was a great birthday present.
September brought us to NYC and Philly for great shows. In November, we played Projektfest – where we were joined by Porcelain Dalya for burlesque on our song "Episode 11: It's Your Funeral" – (video) and were a feature interview in The Noise. We closed out December by playing a benefit at The Regent Theatre with Big Dipper, The Vivs, Tanya Donelly and Bill Janovitz, and more…
2012 will bring more videos, the completion of our 17-song Prisoner series, and some other collaborative surprises!!!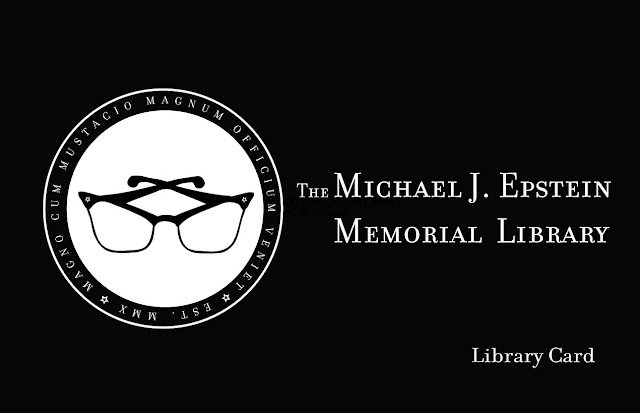 We already posted a summary of the first year in the life of MJEML, which covers all of this in more detail.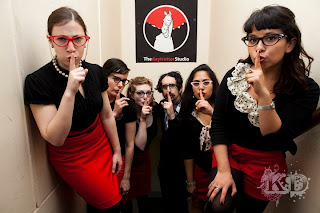 2011 was the first full year of The Michael J. Epstein Memorial Library. In February, we had our CD Release for Volume One at The Middle East Down sell out a month in advance! In April, we went on an amazing 10-day tour with Neutral Uke Hotel and Golden Bloom – the Chicago show even made a best-of-the-year list! We were also lucky enough to record Laundromatinee and Daytrotter (DT coming soon) sets on that tour. In June, we debuted "Faith in Free," a piece written for collaboration with BalletRox at the Strand theater with full ballet choreography. The studio version will be released early in 2012.
Here again is the blog post that details everyone's thoughts on the first year of the band for more info/detail!
We'll be spending most of 2012 battling dolphins…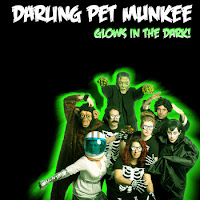 Darling Pet Munkee – was originally a one-off (go here for the story of how it happened) recording project combination of Cathy Capozzi of Axemunkee and Sophia Cacciola and Michael J. Epstein of Do Not Forsake Me Oh My Darling. We had so much fun that we decided to do another casual writing session. We set aside a weekend in July and spent all of Saturday writing new songs – 6 that day (and the one prior) – and then spent Sunday recording them. The result is a forthcoming (release January 14 at Radio – previewed by the Boston Phoenix) collection of 7 songs about items sold in the back of comic books of yore (go to the website to read stories about each item!). In December, we released our self-produced/directed/edited video for our song, "X-Ray Specs" – it made a splash on Boing Boing and in under a month already has nearly 20,000 views!
In 2012, we plan to release a video for each of the 7 songs, including "Genuine Soil From Dracula's Castle," which we have been shooting in pieces for a few months!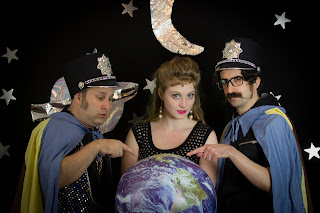 Space Balloons is our music project for kids that  was created as part of a TV pilot for Worried All the Time, created by Rob Potylo of Quiet Desperation fame (here's a music video from the show for "If You Want a Mustache") – though it seems the pilot hasn't panned out – we are full-steam ahead with sharing the cultural mission of our characters from Balloononia. With fellow Balloononian, J. Krafty, we had a busy year writing and recording songs that will have a full release in 2012. You can listen to some on our bandcamp page. We were featured in the Boston Herald as Kindie Rock and took some space-tastic photos. We are also working on some top-secret accompanying video work for the band!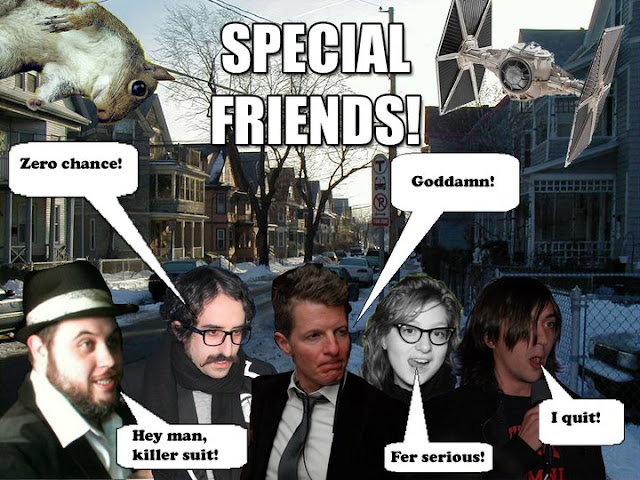 In 2011, we laid some groundwork for our own sitcom web/tv show called Special Friends (starring Glenn di Benedetto, Richard Bouchard, Agent Bishop, and us) – we got as far as releasing the theme song/opening titles and some teasers, but we've shot a lot of footage and expect to release a bunch of full episodes this year!

While The Motion Sick hasn't been playing – our last show and The Girls of The Motion Sick tribute was in Sept. 2010 – all has not come to a screeching halt. Just before the start of 2011, the Daytrotter session for Neutral Uke Hotel/The Motion Sick/Golden Bloom was released with Mike performing two TMS songs with Shawn and Josh of GB. The year 2011 gave us the "opportunity" to see our songs mysteriously included in strange fetish videos (and another), racing videos, a movie about Rock, Paper, Scissors, the TV show "Bad Girls Club," the TV show "Chris and John to the Rescue," the TV show "History Detectives," and available for play in Rock Band. With some luck, you might even hear some new TMS music in 2012!!!
Other Affairs!
Sophia's Rock Beat had a very busy year – the 2011 recap details the 98 local shows, 170 local bands, 249 individual sets we videoed as well as the bands we saw the most. Sophia also covered our trip to SXSW11 in two parts – the shows and the panels.
We also became somewhat regular hosts (typically the 5th Wednesday of the month) of On The Town with Mikey Dee – the weekly local rock radio show on WMFO featuring a live band in studio. This has been a really fun way for us to share our favorite recordings by many amazing local bands. Here's a link to all of our playlists so far.