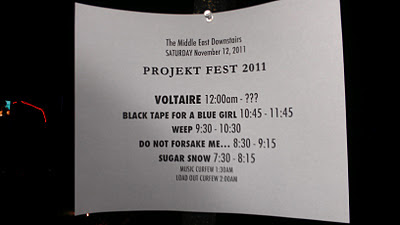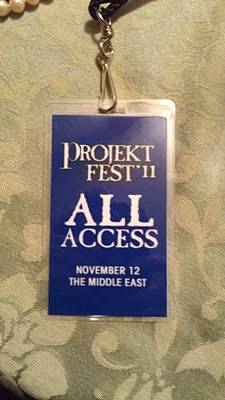 This past weekend, Do Not Forsake Me Oh My Darling played a superfun show as part of Projektfest 2011. Projekt is a specialty record label for "darkwave" music that has been around for 28 years. Projektfest is a sort of yearly celebration of the label. As is my wont, I got some video footage of all of the acts of the night (and I will attempt to link to others' footage as well).
Voltaire (video 2, video 3) – played raunchy and hilarious (Who knew so many puns/jokes could come from the concept of a zombie prostitute?) dark cabaret songs with his exceptional backing band, This Way to the Egress.

Black Tape For A Blue Girl (video 2, video 3) led by Sam Rosenthal (Projekt founder) delighted with their dark lounge:

…and the final (in reverse order of the night) of the Projekt bands, Weep (led by Doc Hammer of The Venture Bros. TV show) –video 2, video 3, video 4 (The Cult cover).  Weep, in addition to being really awesome, played some quite unexpected covers. In addition to the Cult song posted here, they did a ripping version of Bauhaus' "The Passion of Lovers" (Matthew Griffin got video of that!) and Rihanna's "Shut Up and Drive."
DNFMOMD – we got to play a set that included burlesque by Porcelain Dalya and Maggie, performed to our song "Episode 11: It's Your Funeral." They really brought the song to life with a ticking live bomb under a trenchcoat!
Watch the video-from Matthew Griffin below! (here's our side-stage video also with Episode 9: A.B.andC. – and a third angle by Karmic Photography):

Sugar Snow got the whole ball rolling with their excellent dreamy pop:

DJ Matthew Griffin spun the tunes in between band sets – he posted his playlist on facebook –  and watch his Youtube page for more videos – including crowd angle on "It's Your Funeral" and our cover of Leonard Cohen's "First We Take Manhattan!"
Some flickr photos from hyperion327:

…and Jesse Nicole got a bunch of video and photos being posted on her Karmic Photography page – link to her Projekt folder.
Special thanks to Anderson Mar of Dark Sky Productions for putting the whole thing together and having us play!