2012 Recap!

Okay, 2012 was a big one. Here's 2011, that was big too, but different. After last year, we had the lofty goal of releasing 10 albums in 2012. We would have done it too, if we didn't get a little sidetracked around September with making a movie! We released 8+ different musical things. Even with all of these releases, the most exciting thing about this year was all of the awesome, amazingly talented people we got to collaborate with.
We'll break it down by project:
TEN the Movie: what started out as a submission for the Brattle Theatre Trailer Smackdown – a fake trailer competition -turned into a full-length feature film solely through the creative force of the wonderful people we collaborated with. We ran a successful Kickstarter campaign to help fund the production (a learning experience in and of itself! more info/data on our experience). We worked on the pre-production straight through the Fall and shot the movie over 10 days in December. We've been blogging the whole experience. Check out tenthemovie.com to see what madness this has been! We're editing and scoring through the Spring for the Fall film festival circuit.
Do Not Forsake Me Oh My Darling started 2012 off with an acoustic Sleepover Shows video performance – link (shot in our attic!) and that performance was bookended by a set in November on Somerville Cable Access TV show, Somerville Rocks!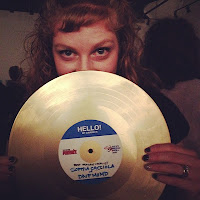 Our ambitious music video, Episode 1: Arrival, released last year (the shot-for-shot remake of the opening titles of The Prisoner) continued to rack up accolades this year – it was awarded "Best Regional Music Video" at the SENE festival, was written up in Boing Boing, and was profiled on the second episode of the new MyTV38 series The Bubbler.
In May, we were honored to win local band of the year from WMWM Salem. In June, Sophia was overjoyed to win best female vocalist from Boston Phoenix.
The Michael J. Epstein Memorial Library –  we made so much music this year! Let's go by month! In January, we shot and premiered a 20-minute silent film set to our music at an ORG party called, A Brief History of Flight! We played to the film live once more at TT the Bears in June. And here's the whole story of the film and why we made it!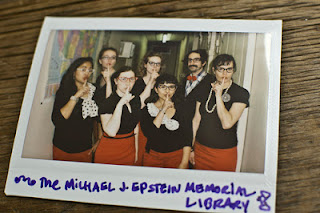 MJEML at Daytrotter!
In  March, we played on the Steve Katsos show, we participated in the epic battle between Jocks, Nerds, and Freaks, and we were the house band for TEDxSomerville – for which we wrote a custom theme song for each of the speakers! TEDxSomerville's organizer, C. Todd Lombardo, even went to the TEDxSummit 2012 in the Innovations session in Quatar and presented a talk about having a house band write for the event.
In April we played at a real library -The Somerville Library! AND WE WENT ON TOUR with Neutral Uke Hotel again! Recap and performance on WHRW.
In May, we played Club Passim's Campfire and we participated, as a band, in the 48 Hour Film Fest! Our film, Los Locos Manos, a psychological thriller was an absolute blast to make. Also in May, our music video for "Amylee" (created by Dan St. Germain) was released! We also released a split EP with Golden Bloom called Swap Meet (we covered 2 of their songs, they covered two of ours!). One of our covers, "You Go On and On", ended up on Music Defined's Top 100 Songs of 2012! "Amylee" landed us on the Bubbles in the Think Tank Best of 2012.
June saw the long-awaited release of our Daytrotter Session! We had recorded this on last year's tour through the Midwest!
July and August, we had fun shows opening for touring bands,  He's My Brother, She's My Sister and AM and Shawn Lee. In September, we became the house band for the monthly variety show, The Encyclopedia Show – through this show we've had the opportunity so far to write songs about drop bears, the love affair between a lunar lander and its command module, and a mime's tenuous relationship with rainbows…and clowns. Recordings coming soon!
Our most ambitious project, musically, this year was the Art/Music Exchange – we asked 5 amazing local artists to create a new visual piece inspired by one of our songs, and we wrote a new song inspired by one of their pieces. The whole project was extensively documented and was such an amazing experience that I'm sure we'll try to do it again!
In November, Kitchen Sessions released live video performances of "Lymph Nodes" and "Amylee!"
Finally, we had our first personnel shift since started the band 2 years ago – we said sad goodbyes to Tanya Palit and Holly Collins (both of whom left to pursue other music/life adventures) and hello to Emily Riehl.
Darling Pet Munkee had a very busy year – we released two records and 3 music videos (with one in mid production!). In January, we released our first EP, Glows in the Dark! The EP made TO ELEVEN's Top 11 of the year! We also made Mike K's best of 2012 list! In March, our music video for X-Ray Specs premiered at BUFF (the Boston Underground Film Festival) and on Boing Boing.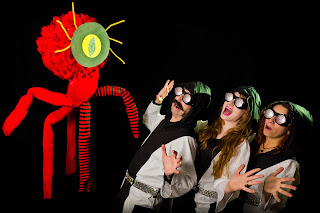 photo by Johnny Anguish! daykampmusic.com
Next, we released a CREATURE DOUBLE FEATURE – 2 music videos hosted by the lovely Porcelain Dalya (as an Elvira-esque Dalya, Mistress of the Munkee).  In July, we did an hour-long live performance on the cable access show – On Stage with Mantis.
We did a really fun photo shoot with Johnny Anguish of Daykamp Music and used those photos on our second EP of the year, You Better Believe It!, released on Halloween at Brighton Music Hall. YBBI made the Bubbles in the Think Tank best of 2012. YBBI also made the Top 37 1/2 albums of 2012 on Train Wreck'd Society.
Neutral Uke Hotel went on two tours this year – the first was a West-Coast tour in February – Michael went and opened the shows with The Michael J. Epstein MiXXXtape (a mish-mash of members of Golden Bloom and NUH!) full recap and an east-coast tour in April with MJEML. Both tours were supported by Cordoba, and we gave away a bunch of Cordoba ukes!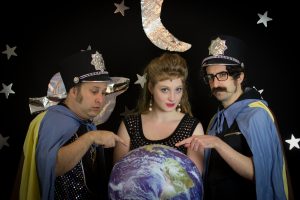 Space Balloons officially released Welcome to Balloononia, this year, and we got to play a birthday party and an elementary school! We also started production on a children's TV show based on our songs and planet!
The Motion Sick has been on hiatus now for several years but still things are happening for them! A nightmare tour story was featured in the book, Another Nightmare Gig From Hell and the song Grace Kelly came out on Rock Band!
Miscellaneous – Now here is where it gets crazy, all of the other nutty stuff we got ourselves up to this year!
Sophia's Rock Beat – saw 70 shows, 188 sets by 158 bands!
The Anchorite – Michael produced and engineered the debut record from The Anchorite (and corralled some librarians to contribute as well!) http://blog.michaeljepstein.com/2012/06/mje-and-sophia-help-produce-anchorites.html
Dolphinspiracy! – The Dolphinspiracy was a very real threat this year that was blogged about extensively and culminated in a documentary that was revealed at ORG: End of the World on Mayan Doomsday!
Quiet Desperation – we appeared in one episode of this season's Quiet D.
Stachy's Beef with Madame Psychosis – there was a RAP BATTLE between Madame P and Michael J. Epstein's Mustache – see the whole history here!
Wiretap Wednesday – In February, we started a monthly open mic at The Armory – video of all of the mics!
On the Town with Mikey Dee – we continued to be semi-regular hosts (the 5th Wednesday!) on WMFO's local music show – link to all of our playlists this year!
TEN Trailer – Michael and Sophia also acted in another group's TEN Trailer!
FAT – Sophia was cast in a small speaking role for the movie FAT! Michael was the guy in the corner at a party. MJEML's music is also featured in the film!
28 Seeds – Michael filled in for MEFF for one night of Walter Sickert and the ARmy of BRoken TOys and Liars and Believers play, 28 Seeds.
Parlour Bells – Michael and Sophia contributed gang-vocals to the Parlour Bells track Airwaves. Sophia also modeled for the CD art for their release, Thank God for the Night.
Dezrah the Strange – Sophia twice broke a cement block with a sledgehammer that was sitting on Dezrah the strange who was laying on a bed of nails! First, Second!
Burlesque! Sophia played ukulele and sang a strange Disney song for a burlesque performance by Porcelain Dalya and Maggie Maraschino
Girls Rock Camp! Sophia had an amazing time volunteering for Girls Rock Camp in August – instructing very young ladies in drums and band coaching!
Magnet Mixtape! Michael made a mixtape for the magazine Magnet featuring many awesome Boston bands!
Running of the Bride! Michael and Sophia are both mentioned in Michael's sister's memoir, Running of the Bride!
Music Video Extras! Michael and Sophia were extras in music videos for Ryan Lee Crosby; Andre Obin; Madame Psychosis, and Hallelujah the Hills!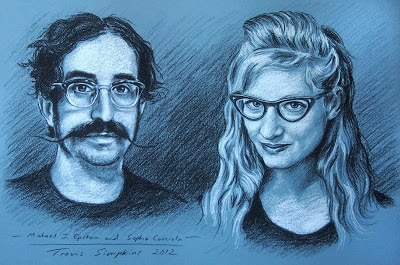 a portrait by Travis Simpkins – http://www.simpkinsdrawingboard.com/