I am thrilled to say that I am serving as a one-day substitute mustache/player during the run of Liars & Believers and Walter Sickert & The Army of Broken Toys' 28 Seeds. I spent the last two days at rehearsals and, now having seen it multiple times (plus I am going today to the actual opening), I definitely recommend seeing it…and probably recommend it most on a day when I am not subbing…but if you want to see me playing 3 different stringed instruments and doing a tiny, tiny bit of what some call "acting," 4/29 is your day! Most importantly, go see this sometime…and then go see it again! It has a very talented cast and crew and just about anything you could want in a StreamCRUNK musical – great music, sci-fi apocalyptica, a visit to the Den of Debauchery, and of course, cannibalism!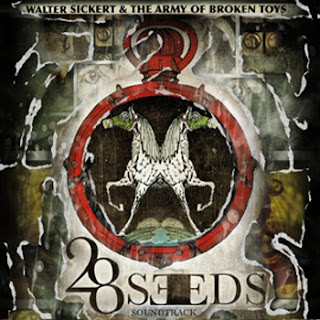 28 Seeds – a Sci-Fi SteamCRUNK musical
SHOWS:
April 19 – May 12
Wednesdays/Thursdays at 7:30pm
Fridays/Saturdays at 8:00pm
Sundays at 4pm
An experimental theatre company and a steamCRUNK band blend live rock show, science fiction, dance, and multi-media to bring to life the story of how human greed and ignorance trigger the apocalypse, for a one-of-a-kind theatrical experience you won't soon forget.
Tickets Online:
Phone: 617-933-8600
In person: BU Theatre Box Office, 264 Huntington Ave, Boston, MA
or Calderwood Pavilion Box Office, 527 Tremont St, Boston, MA